Ready to take your ecommerce customer service to the next level? Chances are, you've probably already thought about using a help desk for your Shopify, woocommerce, bigcommerce, ecwid or etsy store. Ecommerce help desk software can offer a great way to improve customer experience, enhance customer satisfaction, boost sales, and get more repeat buyers for your store. However, the icing on the cake is that it's not easy to choose the best one because there are so many options out there. So lets first understand what is ecommerce helpdesk software?
What is ecommerce help desk software?
A help desk serves as a customer contact platform for all your customer service. For an ecommerce company, this might mean pulling in information from several sources:
Emails from your online store
Messages from marketplaces like Amazon and eBay
Phone call logs
Live chats
You can help all your customers from the same browser window, and all support records end up in the same place. Help desks also come with tools to make support easier. For example, you can create a library of saved replies so you don't have to retype the same answer 20 times a day. Your customers never asked you to sacrifice your fingers, after all! Now you know why help desk software is useful.
Do you need an ecommerce helpdesk software?
Using a help desk means learning a new system. That takes time and effort, which your team may be unenthusiastic about investing. You may not need all the tools included, either. Many bells and whistles are nothing more than unwanted noise. However if you need a very basic support, where you dont get too many queries, you could check out the Text Feedback widget from WebsitesToolz. You can activate this on your website with just one line of code and forget about it. Integrate this widget with your favourite email or other third party applications. Every time somebody submits a question or Feedback on your website via the popup you could trigger an action in gmail, zendesk, slack or google sheets. Click here to view this example; (How to recieve an email in your gmail inbox and reply or send feedback to your product team on a slack channel using WebsitesToolz text feedback widget). I highly recommend WebsitesToolz as it comes with 24 different widgets which are a must for every ecommerce business from social proof popups, Email lead collectors, Countdown clock lead collectors, hello bar, coupon popus and many more, besides you can stay on the FREE plan for as long as you like.
Here is a checklist of questions that will help you decide on whether you need an ecommerce helpdesk software.
1. Do you need to make multichannel support easier?
2. Would a help desk save you time on replies?
3. Do you have trouble telling who helped which customer?
4. Are support records scattered?
5. Are you unable to make important decisions due to a lack of data?
Ask yourself these five questions before putting in your time and money. The more often you answer yes, the more likely an ecommerce help desk will pay off for your business. That's why in this post, we will share with you the five best ecommerce help desk software applications to grow your ecommerce business. We have briefly covered the features, pricing, and unique strengths of each of the applications so you can decide which help desk solution is best for your business. Lets quickly get started
1.Gorgias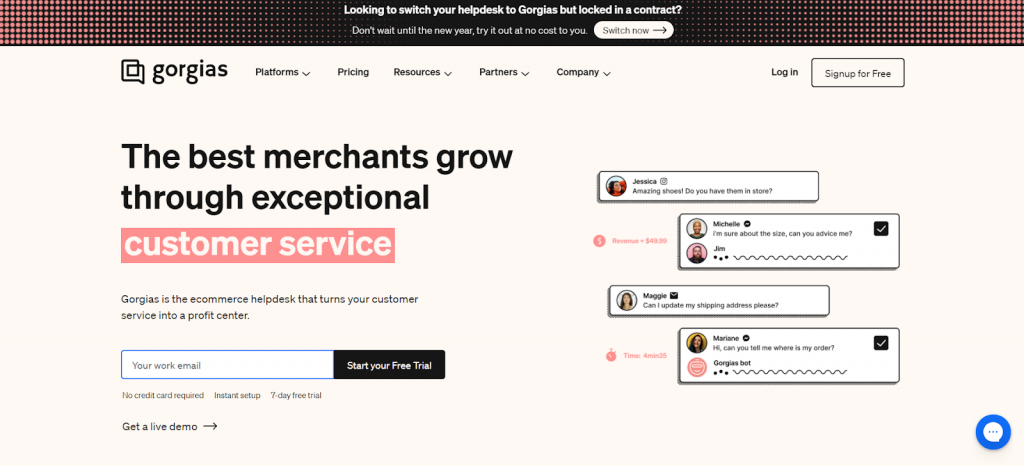 Gorgias is different from the other five help desk software in this list. Gorgias was built with the sole purpose of helping ecommerce merchants level up their customer support.
Who is it best for: Ecommerce merchants who are ready to go all-in on their customer support efforts.
Notable features:
Update orders directly from your help desk and work faster with smart automation
Manage customer requests for multiple storefronts, either on desktop or mobile apps
Use Shopify and BigCommerce variables to auto-respond order-related tickets
Integrate with third-party apps like ShipStation, Slack, and Recharge
Use macros to automate tasks and perform actions like adding tags, bulk action
Provide instant support by setting rules based on customer intents
Deliver omnichannel support, e.g., SMS messaging and social media
Easy to use, no learning curve involved, no feature overload
Impartial customer support for all merchants, regardless of plans you're using
Gorgias pricing:
Basic plan: Start at $60/month with 350 monthly tickets and $25 for each extra 100 tickets.
2.Zendesk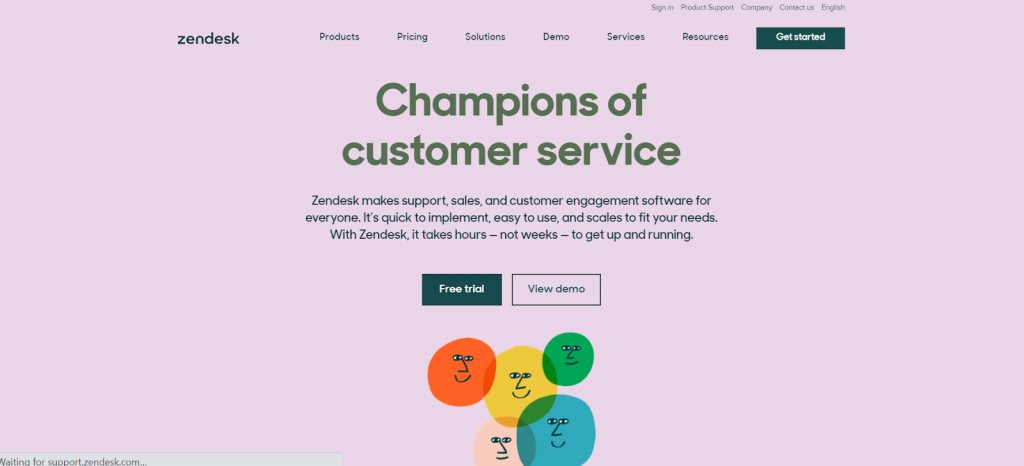 Zendesk is an all-in-one customer service and customer relationship management (CRM) platform for all businesses. It's known for a wide range of features covering from customer support to marketing and sales.
Who is it best for: Enterprises and large team.
Notable features:
Several products, including Support, Guide, Chat, Talk, Sell, Explore, Gather, Support Suite, and Sales Suite
Track and manage customer data, customer interactions, etc.
Support over 60 different languages from all over the world
Diverse features such as omnichannel support, business rules, CSAT, SLA, agent roles, multiple ticket forms, advanced encryption and security
Excellent reporting, metrics, and data analysis capabilities, making it useful for large businesses
Over 1000 integrations in many categories like project management and marketing automation
Zendesk pricing: Zendesk pricing starts from $5 per agent per month, but because it's very complicated, you may end up paying a lot.
3.Freshdesk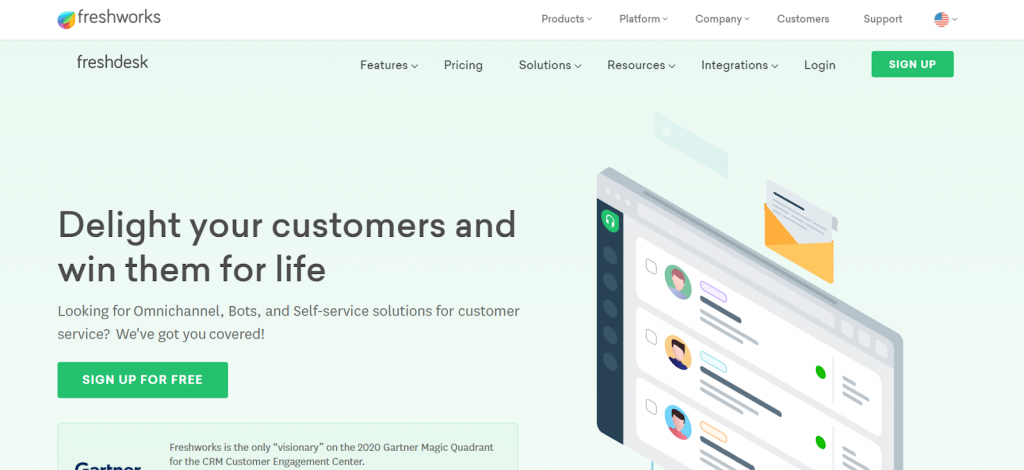 Freshdesk is a powerful but highly approachable customer service software for any business that has been up and running very quickly. It's considered the perfect alternative to Zendesk because it provides almost the same features at a lower price than its competitor. That doesn't mention the fact that Freshdesk offers a free plan while Zendesk doesn't.
Who is it best for: Small and medium businesses, SaaS startups.
Notable features:
Intuitive and modern user interface
Smart automation tools to simplify support, integrated game mechanics to boost agent productivity, and robust multichannel capabilities to broaden user's reach
Complete customization functionalities like portal customization, custom agent roles, custom ticket forms, custom URL, custom apps, and more
Ticket templates, knowledge base article templates, etc.
Powerful self-service portal with chatbot, help widget, community forum, FAQs, and knowledge base
Freshdesk pricing: Freshdesk offers five different plans with cute names (i.e., Free, Blossom, Garden, Estate, and Forest) that range in price from free up to $99/month/agent when billed annually (if billed monthly, the price would be $125).
4. Re:Amaze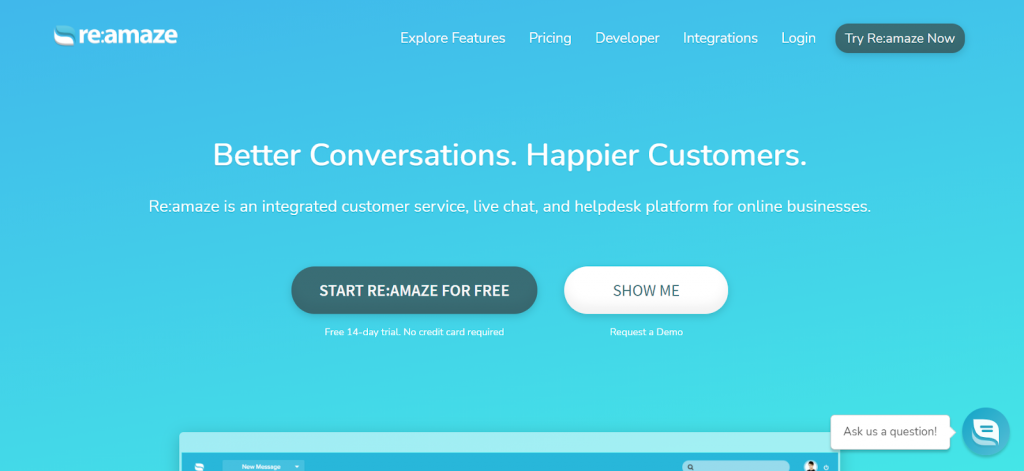 Re:amaze is a customer service, live chat, and help desk solution for small and medium businesses. It's much simpler than Zendesk and Freshdesk but easier to use for beginners.
Who is it best for: Small and medium businesses (SMBs)
Notable features:
Flexibility pricing plans, making it suitable for SMBs
Unlimited email inboxes for all pricing plans
Various ticket management features
Automation and rules to streamline your workflow
Custom hosted domain and customizable email appearance
Status page, classic chat mode, SAML/SSO integration, etc.
Re:amaze pricing: Reamaze currently offers three plans, i.e., Basic, Pro, and Plus, with prices starting from $20 per team member per month. All pricing plans are monthly rates with no contract or obligated commitments. Apart from these plans, Reamaze supports custom plans and volume-based pricing.
5. Live Agent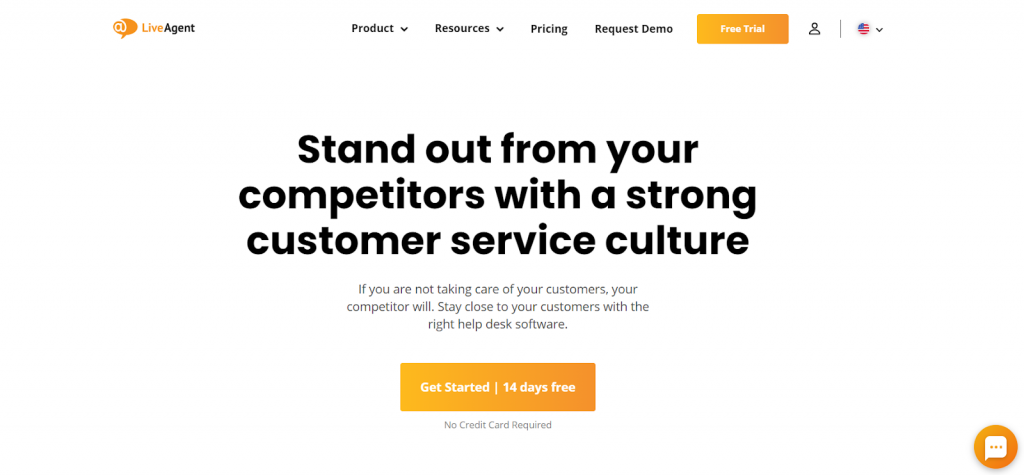 LiveAgent is a help desk app for companies that want to offer phone, email, live chat, and social support. It's best if you have numerous support agents since it includes auto-routing and back-end and collaboration features. Note that LiveAgent doesn't support chat to SMS messaging like Gorgias and other help desk solutions do.
Who is it best for: Small and medium businesses.
Notable features:
Communication channels: phone, email, live chat, and social media
Support a real-time chat box or email ticketing system on website or mobile apps
Create multiple chat boxes or email addresses for different departments
Ticket ownership, auto-routing tickets, internal chat, and more
LiveAgent pricing: LiveAgent offers a free, full-featured plan and three paid plans. With the free plan, you get one live chat button, ticketing for one email address, and call center support for a single phone number. Paid plans start at $15/month/agent for email ticketing only.
WebsitesToolz is one of the most effective Social proof marketing tools. We turn your online visitors into customers with 24 different types of popup notifications with call to action ideal for every online business. You could create and display a stream of conversion notifications, product counter notifications, Video Popups, Phone number collectors, Linktree Popups, Countdown clock email id collectors, Modal lead collectors, Discount popus, Hello bar notifications, Text feedback popups and many more. You could easily integrate with all your favourite applications using webhooks or a service like Zapier.