In the competitive world of eCommerce, traffic does not guarantee success. Even the best products and the cheapest prices are not enough on their own. Using a Social Proof app is a quick way to show customers they can trust your Shopify store but there are over 200 apps in the Shopify store for creating Social Proof. This summary compares the best social proof apps for Shopify stores in 2021.
Consumers are bombarded by tons of ads every single day across all digital screens. While ads are still a quick and easy way to get your message in front of the right people, they aren't the best fit for every business. Large corporates and multinational companies use them to create brand recall. But if you are a run an online store or a digital marketer then social proof marketing tools are just for you. Social proof popup notifications instantly build trust and credibility among your online visitors.
Social proof can have an enormous impact on your bottom line. In a recent survey across locations and generations, it was found that:
66% of consumers were more likely to signup or purchase a product that included social proof on their website.
82% of consumers were more likely to signup or purchase a product with social proof popup notifications.
86% of consumers were more likely to signup or purchase a product with positive star ratings on their homepage.
Social proof leverages psychology to get your target audience to take action by showing them that other people are taking those actions. It's a powerful marketing technique and it's easy to do when you use the right tools. In this article, we're sharing Top 3 Social Proof Apps For Shopify: Expectations vs. Reality
But first, let's talk a little bit about what social proof actually is.
What Is Social Proof?
Social proof is when we copy the actions of others in order to become part of the group. It's essentially peer pressure. For marketers, this means that consumers are more likely to trust real people (their peers, influencers, celebrities) more than an ad for a product. This makes social proof a marketing tactic well worth investing in.
Social proof is based on the concept of "normative social influence." This concept asserts that people will conform to be seen as similar to, or accepted by, an influencer or society as a whole. It boils down to using third-party influence to get prospects to commit.  Checkout this must read post "Top 11 Proven Hacks to boost ecommerce conversion rates."
Top 3 Social Proof Apps For Shopify: Expectations vs. Reality
FOMO – "Honesty Is The Best Marketing"
Provesource – "Skyrocket Your Conversions"
WebsitesToolz – "Skyrocket Conversions and Increase Growth"
Before deciding which Social Proof app is the best for your Shopify store, it makes sense to think about what social proof is, how it is used, and why you might want it. In the era of Amazon and eBay, social proof has become a familiar part of marketing and web design.
Why Social Proof Matters For Shopify Stores
Social Proof is a powerful psychological effect which makes us copy the behaviour of those around us. It works because of our desire to fit in and our trust in the people we relate to.
The sales and marketing expert Cavett Robert outlined the principle of Social Proof in a guide to consumer behaviour he published in the 1960s. Describing the sales process, Robert famously stated:
95 % of people are imitators and only 5% initiators…people are persuaded more by the actions of others than by any proof we can offer.
More recently, the principle of Social Proof has been used extensively by eCommerce platforms like Amazon. Subtle hints about what other people think and do have become a routine part of online shopping.
Whilst few websites have the data and resources of these eCommerce giants, anyone can use a social proof app to create the same kinds of messages. For Shopify store owners, there is a special category for social proof in the platform's app store.  Interesting blog post must read "10 Quick Tips How Big Brands Use Social Proof."
FOMO displays recent orders, product reviews, and a variety of other customer behaviours on Shopify Stores. However, the app can only be connected to Shopify by enabling an integration, which means displaying live sales and views can be complicated. It also means that your billing and account details are more difficult to manage.
By integrating through Zapier with other eCommerce tools (such as Mailchimp, Stripe and Trustpilot) you can show a wide range of messages about recent activity. Must read blog post "12 Best social proof popups to instantly boost sales 3X."
Social Proof Messages
Recently Subscribed – Social proof based on a new subscriber (Tom from Jersey subscribed to Starter)
Recently Started – Social proof based on a free trial starter (Michael started a free trial)
Recent Updates – Social Proof based on technical updates (Roger pushed code to make FOMO even better)
Recent Activity – Social Proof based on a custom event (Colin just helped Simon resolve a technical issue)
Pricing and Features
$19/month – 25,000 notifications
$39/month – 50,000 notifications
$79/month – 250,000 notifications
$199/month – 3,000,000 notifications
The number of integration options means there are countless different types of message available for FOMO users. This is a real advantage, especially for enterprise customers.
Provesource is another Shopify social proof app that connects to an external platform. Like FOMO, it combines with other tools, such as Facebook and Google Reviews, to create Social Proof messages. Unlike FOMO, you can choose from a wide range of informational, event or review notifications.
Because of the reliance on integrations, it can be difficult to set up new notifications. On the other hand, there are tons of customisation options available to you.
Inside the App
Social Proof Messages
Stream – Shows recent actions (Mike signed up for ProveSource)
Informational – Highlights key information (Your purchase is backed by our guarantee)
Counter – Shows the total visits or conversions you get (90 marketers are also interested)
Reviews – Shows positive reviews from different platforms (One of the best experiences I've ever had)
Combo – Combines visitors who completed an action in a time (Signed up for ProveSource in the last 24 hours)

Pricing and Features
$16/month – 10,000 visitors
$42/month – 50,000 visitors
$84/month – 200,000 visitors
$166/month – 500,000 visitors
Provesource offers a wide range of messaging options, and most of the templates can be easily edited. Hop over and check this article "Top 3 proven ways to reduce shopping cart abandonment."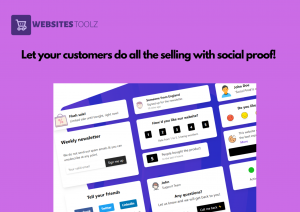 WebsitesToolz comes with a variety of upto 24 different widgets and social proof tools. This social proof software tool stands out in terms of the customizations and functionalities you can have. You can create notifications that look and sound exactly how you want them to, without a developer and without a single line of code. WebsitesToolz will be shortly available on Shopify app store. Till then users can use WebsitesToolz as an external application.
Create manual and realtime social proof popup notifications. Customise the title and description of the popup notifications in a language of your choice. Show popups when somebody signs up, adds something to a cart or makes a purchase on your shopify store.  Integrate with over 1000 external applications using Zapier or webhooks. Must read blog post for Shopify store users "How to setup shopify conversions with WebsitesToolz" 
Inside WebsitesToolz
Social Proof Messages
Social proof popup notifications
Email lead collectors
Countdown clock lead collectors
Phone number lead collectors
Random review popups
Video popups
Hello bar popup
Linktree  popup (Show Reccommended, Best Seller, Out of Stock, Free delivery, Back in stock poups)
Discount coupon popup
Feedback popup
Upsell Crosssell popups
 Click here to view WebsitesToolz demo page to see all the above popups in action.
Pricing and Features
$0/month – 1000 Notification Impressions
$9/month – 25,000 Notification Impressions
$18/month – 50,000 Notification Impressions
$34/month – 100,000 Notification Impressions
$64/month – 250,000 Notification Impressions
$99/month – 500,000 Notification Impressions
The number of integration options means there are countless different types of message available for WebsitesToolz users. This is a real advantage, especially for enterprise customers.
Bonus: Top ideas to make the most of WebsitesToolz
WebsitesToolz is a no coding application designed with you the entrepreneur the non techie in mind. With WebsitesToolz you will have access to our 24 X 7 helpdesk with all the how to guides, knowledgebase articles and our ideas section to help share creative ideas with our community so you the online marketer, entrepreneur can get more bang for your buck. So let quickly share a few ideas from our helpdesk section. Click here to view WebsitesToolz demo page to see all the above popups in action.
1. How to create Video Popups using WebsitesToolz.
Video popups are a really powerfull tool to instantly communicate with your shopify store visitors, build credibility and trust.
Instead of a one live text review you can now embed a youtube video testimonial as a popup which is ideal when you have products or services that are more than what meets the eye and needs some feedback on the finer details. Again set the triggers on timer, on page scroll percentage or exit intent. Video reviews popups are the most sought after social proof tool by marketers from every online business. They create instant trust and decision making instincts among online visitors. Besides these being video popup notifications you can show them precisely on any page at any point of time without having to embed them on your store and lose visitors clicking away due to low page load speeds.  Click Here to access this article on our Ideas section of the helpdesk.
2. How to create BestSeller, UpSell, Cross Sell popups using WebsitesToolz
With WebsitesToolz social proof popups you can create awesome upsell and cross sell popups that can instantly double the value of your buyers shopping cart. With WebsitesToolz engagement links widget you can create an awesome popup just like the one below. You could use this popup to showcase Bestsellers, New Arrivals, Back in Stock, Out of Stock alternatives, Clearance Sale. You can also use this popup to display multiple options or designs for one single product on any product page and with a click send the user to the product page of his choice.
You can even use this popup to show customer reviews for multiple products. You can create FOMO by adding description like " Only 2 Qty in Stock" or "Sold 50 Qty in the last 7 days" etc.  Click Here to find the steps on how to customise the engagement links widget.  Click here to view WebsitesToolz demo page to see all the above popups in action.
We hope you liked the 2 bonus ideas from WebsitesToolz. If you are looking for more creative ideas on how to boost sales and grow your shopify business using WebsitesToolz. Join our community on the helpdesk by signing up for WebsitesToolz Free Trial. If your business does not have the resources to engineer custom solutions, social proof applications are a quick and simple way to build trust and credibility on Shopify. Social proof helps to reduce customer anxieties, in turn increasing sales and allowing your store to grow. Even larger businesses can use social proof to help improve their Shopify conversion rate.  Click here to view WebsitesToolz demo page to see all the above popups in action.