Do you want to reduce shopping cart abandonment on your site, but you're not sure where (or how) to start? Shopping cart abandonment is one of the biggest problems online business owners face. Every year, trillions of dollars are lost because customers don't finish the checkout process. That's why, in today's post, we're excited to give you 3 unique strategies for reducing shopping cart abandonment. But before we get started, let's look at what is shopping cart abandonment? and why it's a problem you need to take seriously.
What Is Shopping Cart Abandonment?
Shopping cart abandonment is when your customers add items to their online shopping cart but leave before paying. And if you don't think it's a problem for your eCommerce store, then you might not realize how much money you're leaving on the table. That's because, on average, 67.91% of all shopping carts are abandoned. This means just over 2 out of 3 people who add products to their shopping cart will leave without pulling out their credit card. That's a lot of missed opportunities and lost revenue. The good news is there are ways you can stop it. And in if you follow along with the tips in this article, you'll see shopping cart abandonment rates drop and profits increase. Ready to learn how? Let's get started. Before we proceed watch this demo video of WebsitesToolz which has upto 24 different tools that can reduce shopping cart abandonment and boost online store conversions and sales.
How to Reduce Shopping Cart Abandonment
If you've spent any time researching how to reduce online shopping cart abandonment, you're probably familiar with the standard tips and tricks. By now, it's no secret that cart abandonment rates are super high. For the most part, many articles discussing cart abandonment show you many ways to accomplish one thing: improve your checkout flow. And while this is always great advice, we didn't want to reinvent the wheel. That's why we created these 3 unique strategies for reducing shopping cart abandonment across your site.
Before we get started, we would like to mention that many of the following strategies use WebsitesToolz.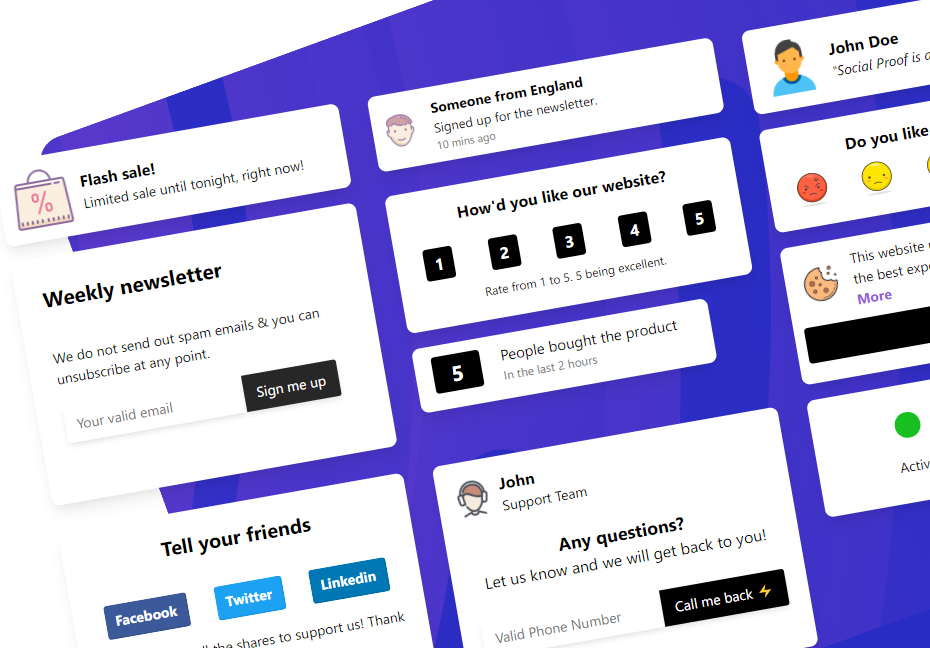 That's because WebsitesToolz is a powerfull lead generation software. Put more simply, we're the best at getting people to take the action you want them to on your site. This includes things like:
Increasing sitewide pageviews
Growing your email list
Boosting sales and online conversions with social proof
Building credibility and trust
And, of course, reducing shopping cart abandonment. We do this by giving you the right tools to build "optin campaigns." These are small messages that appear in the form of popups, slide-in scroll boxes, floating bars, and more. These campaigns have a call-to-action (CTA) that prompt users to do something on your site. As you'll see, these optin campaigns are the perfect solution for reducing shopping cart abandonment–even when your checkout flow is flawless. Now, let's dive into our tips for reducing shopping cart abandonment.
1.Setup Exit Intent Popups
One of the best ways you can reduce shopping cart abandonment is to create a popup that uses exit intent as a option to show popups. An exit-intent popup will display your campaign on your website or product page when a user is actively leaving your checkout page. This means you can capture your user's attention at the exact moment they plan to abandon their carts. And if you really want to reduce shopping cart abandonment, you can use this moment to incentivize your potential customer with a coupon code or promotional discount. This campaign can be created with WebsitesToolz Discount popup.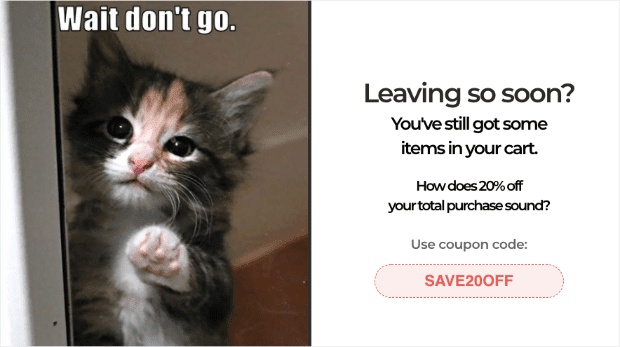 By interacting with your online shoppers at this critical moment in their customer journey, you can motivate hesitant customers to go through with their purchase. In fact, Minimum Fashions (Danish clothing ecommerce store) attributes 52% of its revenue to WebsitesToolz exit-intent campaign while reducing its site's cart abandonment. This is a particularly good strategy for online retail stores with people who like to "window shop." An exit-intent popup can take casual browsers and convert them into lifelong customers.
Danish cosmetics ecommerce store Nicehair tested this campaign on their different sites (International site, Danish site, Swedish site, and Norwegian site) for a limited time to see if they could reduce cart abandonment. They made clear that the discount code needed to be used immediately, encouraging abandoning shoppers to follow through with their purchase. The average conversion rate of this campaign across all four sites? An amazing 44.76 percent. That's right: almost half the visitors who were about to abandon their cart returned to it after seeing this campaign.
But even though these two campaigns performed so well, Nicehair and Minimum Fashinons know the importance of using discounts sparingly. When you don't use discounts often, you can get away with offering smaller discounts and still have great success with your campaign.
2. Offer FREE Shipping
One of the biggest reasons for cart abandonment is hidden costs at the end of checkout. And the two biggest reasons for unexpected costs? Taxes and shipping costs. You've probably experienced this before as an online customer. You load a product in your cart for $19.99. Then when it's time to pay, the price jumps to $40, which is much higher than what you wanted. So, like most consumers, you decide to shop around for a better deal and never go back to your cart. You can reduce unexpected costs by offering free shipping and promoting it with a floating bar across your site. You can easily create this in a few minutes with WebsitesToolz Coupon Bar popup notification.

This can incentivize your users to load up their cart, knowing that they won't be hit with a surprise fee. In the end, you'll have more customers complete their purchase and see profits increase.
3. Create a fear of missing out (FOMO)
Another tactic you can use to reduce shopping cart abandonment is to create a sense of urgency. That means letting customers know that whatever discount or promotional offer you have won't last forever. One of the best ways to do this is with WebsitesToolz countdown collector popup and conversions counter. These are 2 very powerfull FOMO tools you can use to create a sense of urgency. The Countdown Collector popup can be setup in a few minutes. this way you can capture leads and send them discount codes right away. All this can be automated with WebsitesToolz. The lead captured can be sent to any third part CRM or email application that allows webhooks. This way all leads captued through this campaign can be automatically added to an email list or sequence that sends out pre designed automated emails with your discount codes all without you even knowing.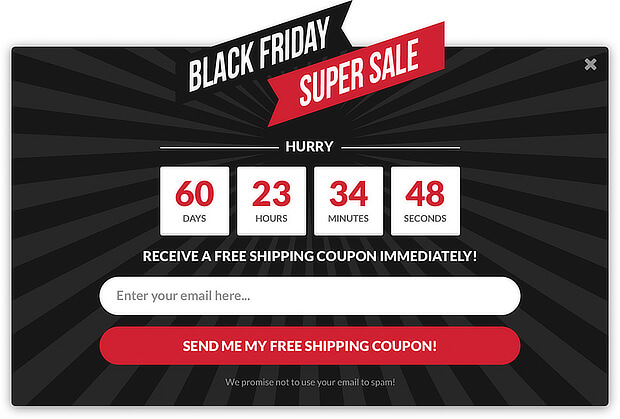 Similiarly with WebsitesToolz social proof notifications like the latest conversions popup and conversions counter popup notification, you can design manual or customise realtime popup noifications. Show visitors on your store popup notifications like (Joe from Austin purchased Blue denim jeans 1 hr back) or how many people purchased this particular product. (25 people purchased blue denim jeans in the last 7 hrs) Thereby building credibility and trust among first time buyers and converting them as customers for life. With WebsitesToolz realtime notifications you just have to customise them once and leave it and it will keep showing popups based on realtime transactions that occur on your store. Click Here to read our blog posts on "How to setup shopify conversions with WebsitesToolz" This is a detailed tutorial guide we created for shopify store owners. You can use the same method for any ecommerce store or platform.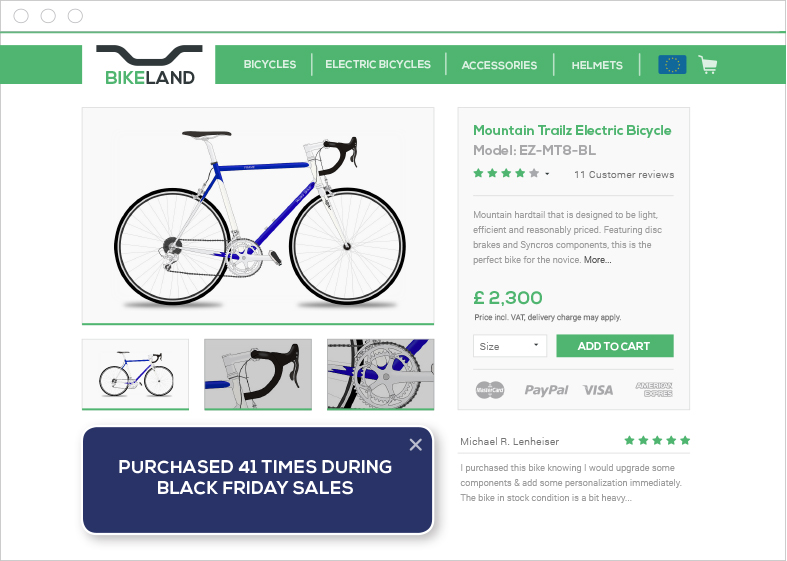 Social proof shows that other people have used, loved, and spoken positively about your product or services. There are many forms of social proof, but one of the most effective are social proof notifications. Social proof notifications are small messages that show when someone has positively engaged with your brand online. These can be things like showing when a customer,
Makes a purchase on your site
Signs up for a newsletter
Registers for a webinar
But how do social proof notifications help reduce cart abandonment? They build instant trust between you and hesitant buyers, and they create a sense of FOMO ("fear of missing out"). FOMO is the idea that people don't want to miss out on positive things they see others experiencing. So when you create a social proof notification that shows other customers are buying your products, it motivates your site's visitors to take a similar action.