Everyone has ideas they can share. Whether it's about how to successfully run a digital marketing, SEO campaign or how to build a business from scratch. The world is filled with opportunities for you to share your knowledge, regardless of where that knowledge comes from and whether or not you've ever taught a course in the past.
Far too often we hear people saying that they don't have anything to teach the world, but more often than not it's not true. And that's a shame because you can make lots of money from posting courses online and selling them to people who are interested. Heck, the average Udemy instructor brings in around $5,000, which is pretty solid when talking about passive income.
Those aren't even the top earners either. If you put in lots of work and generate courses that are of high value to your customers, you could potentially bring in six figures from your courses. The only problem is that you need a platform for publishing and selling your online courses. Using Shopify with an app works well, but what about standalone platforms that are solely for selling online courses?
So lets quickly dive in an list out the Top 6 best platforms for you to sell your online courses and grow like never before. Keep reading to learn about the best online course platforms available in the market, their pricing, and who they are best suited for.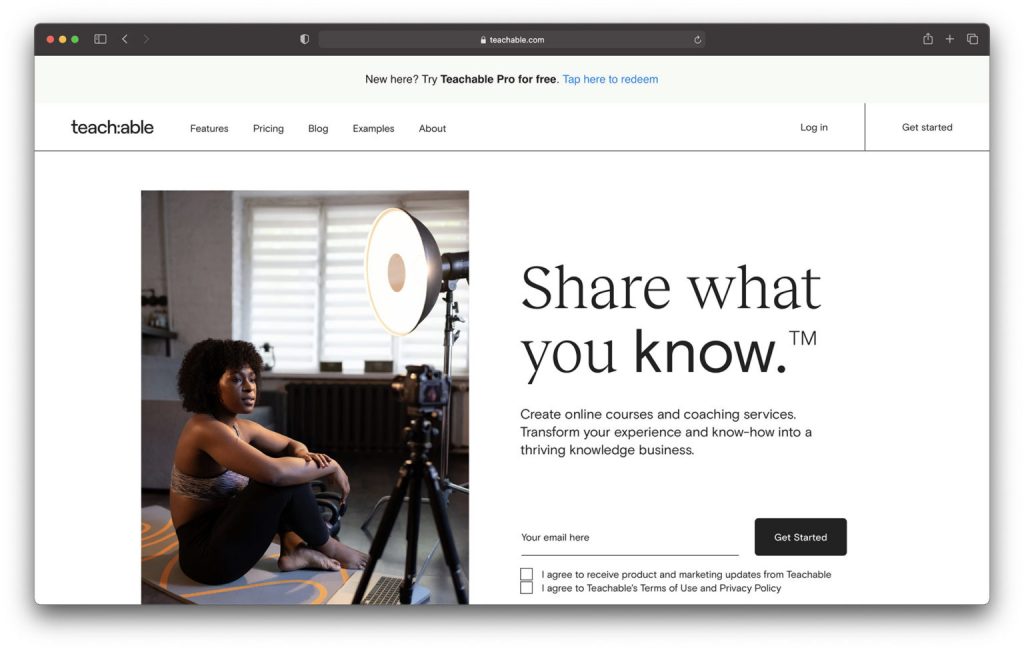 Pricing: From $29 per month to $249 per month. The cheapest platform starts at $29 for "Basic" features, such as a custom domain, email and affiliate marketing, drip course content and coupon codes. However, the cheaper price tag does come with a 5% transaction fee. Teachable is my personal favorite since it was initially intended to address some of the problems people had seen with Udemy . That said, Teachable has a stunning builder that's more focused on branding and uniqueness, as opposed to some of the more cookie cutter templates from places like Udemy.
Multi-language support is a plus, and the integrated blog gives you a better chance of improving SEO. Quizzes and discussion forums help keep people around, and marketing tools are amazing, offering solutions for email marketing, coupons, landing pages, international payments and affiliate programs.
Who is This Online Course Platform Best For?
Teachable is mainly for those looking to get solid features for a low price. The monthly rates are the most reasonable on this list, and as you can see from the feature set, it's rather impressive. All types of media are supported through Teachable, but we recommend this solution for those who want the ultimate marketing integrations. Marketing and analytics are extremely powerful, and you can also integration with systems like MailChimp, Ontraport, Infusionsoft, Mixpanel, and some other marketing tools through the Zapier app. Just by adding a social proof marketing tool like WebsitesToolz to your Teachable pages you can drive online conversions by 300%. Show manual and realtime conversion popup notifications to your visitors building credibility and trust. Let them know what other visitors are doing on your site compelling them to take action.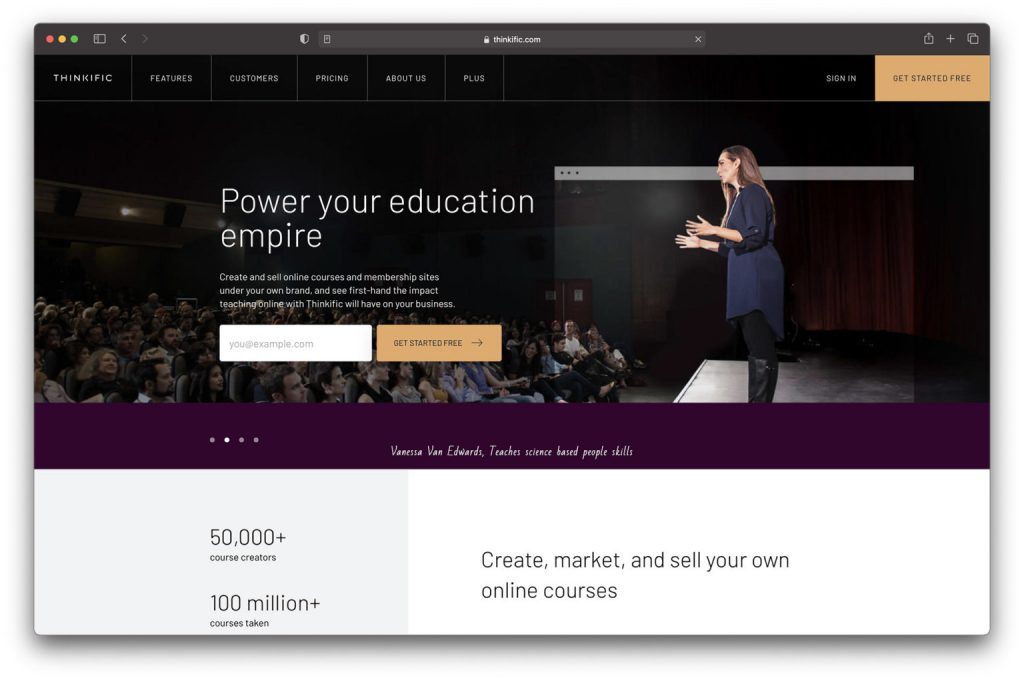 Pricing: From $0 per month to $499 per month. Thinkific is great for course creators that want to start without spending much. You can create three courses for free, with unlimited student support, course upselling opportunities, and no transaction fees. There's even a payment gateway built in. If you want to upgrade to the basic plan, that will cost you $49 per month to access sales pages with coupons and promotions, email integrations and marketing, as well as drip content.
Part of the reason Thinkific looks so great compared to the competition is that of its course designer. You don't have to mess with any code if you don't want to. In fact, all of your content is organized using a simple drag and drop editor, where you stack the course content and move it around vertically. Thinkific has some great advantages to its pricing layout. Not only can you start your course for free (something that's not offered with competitors like Teachable,) but the additional 3 plans are broken down in a logical fashion.
Who is This Online Course Platform Best For?
I like Thinkific for anyone interested in making a completely new online course. The interface is clean and powerful, and you get all the tools needed to build your store without the requirements of your own hosting or website. With a proposition very similar to that of Teachable, if you are planning to start a free plan, Thinkific will offer you more. Customize and personalize real time conversion notifications on your thinkific page with WebsitesToolz. Skyrocket last mile online conversions with over 24 different popup notifications from social proof notifications, lead capture popups, countdown clock email collectors, text feedback popups and hello bar clock and discount notifications. Click here to go through our guide and learn how to show realtime time conversions on your thinkific course. You could do the same with other online course platforms as well using WebsitesToolz
Pricing: From $39 per month (Mover plan) to $179 per month (Earthquaker plan). The mover plan supports online course hosting, digital downloads, and email marketing. The great thing about this platform is that it doesn't charge transaction fees, even at the lower price tier.
It's a system meant only for constructing a site in one of these three categories: selling memberships, digital downloads, or online courses. This is pretty cool considering you can cut out the rest of the clutter of e-commerce. Upon first glance, Podia offers a clean interface for designing your website. It's simple enough for beginners, and since it's only for memberships, digital downloads, and online courses, the options are more consolidated for users in those industries.
Who is This Online Course Platform Best For?
This app is for those who have found that Gumroad, or other competitors, are either too complex or they force you to pay high transaction fees. Podia offers a wonderful user experience along with a rapid launch process for online courses, digital downloads, and membership sites. With WebsitesToolz display manual and real time conversion notifications on your Podia course pages. Create a fear of missing out or urgency. Show social proof notifications when a user makes a purchase, submits a form or subscribes .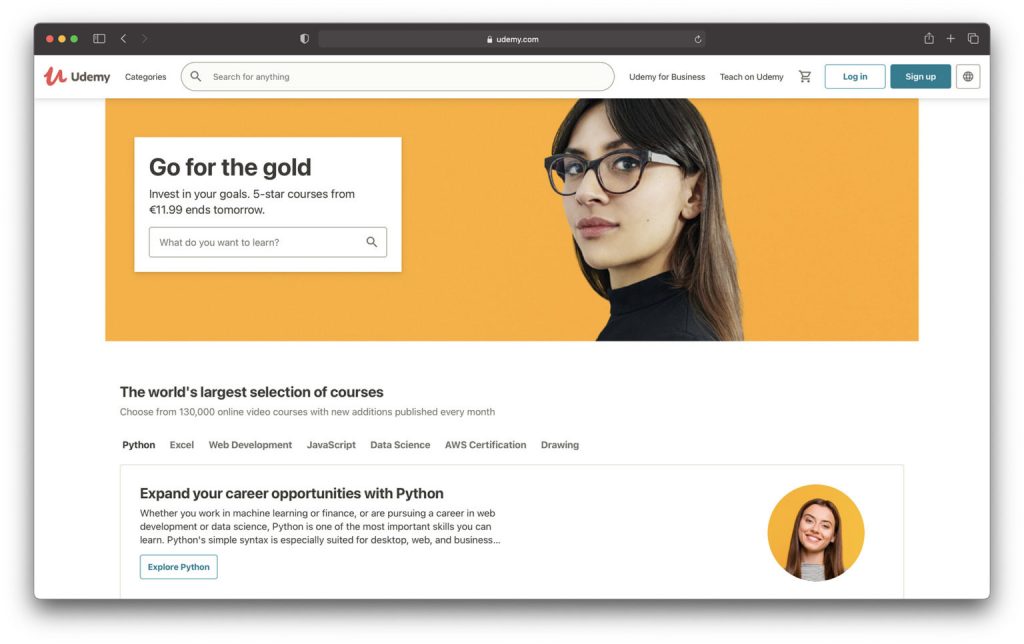 Pricing: Free (But you give up 50% of sales if Udemy brings in a student for you). Udemy is often considered the best online course platform for people who want to start small without spending a lot of cash. Although you don't get a lot of customer support, or freedom, you can start for free. However, you will need to give a portion of your revenue share – up to 75% to the Udemy brand.
Udemy is by far the most popular solution for building and selling courses online. It's been known to have mixed reviews online, but its network is unmatched for bringing in more students and boosting your sales. Building your course is all done in the Udemy dashboard, and when you're done, it gives you access to the millions of potential students in the Udemy community.
Process any type of credit card, but keep in mind that Udemy keeps 50% of your revenue when they help you promote the course to a student. However, if you bring in a student without the help of Udemy, 100% of the revenue goes to you.
Who is This Online Learning Platform Best For?
I like this course for people who are nervous to create their own website, or for those who want to save some cash. After all, it is completely free upfront. Udemy has a main focus on selling video courses, but you do have the ability to upload other course materials like PDFs and audio. In my opinion, you're basically giving up a little control of your course to gain access to the giant community. Skyrocket online conversions on your Udemy course landing page with WebsitesTool. Checkout our guide to display real time paypal, stripe purchase notifications for any purchase made on your course pages.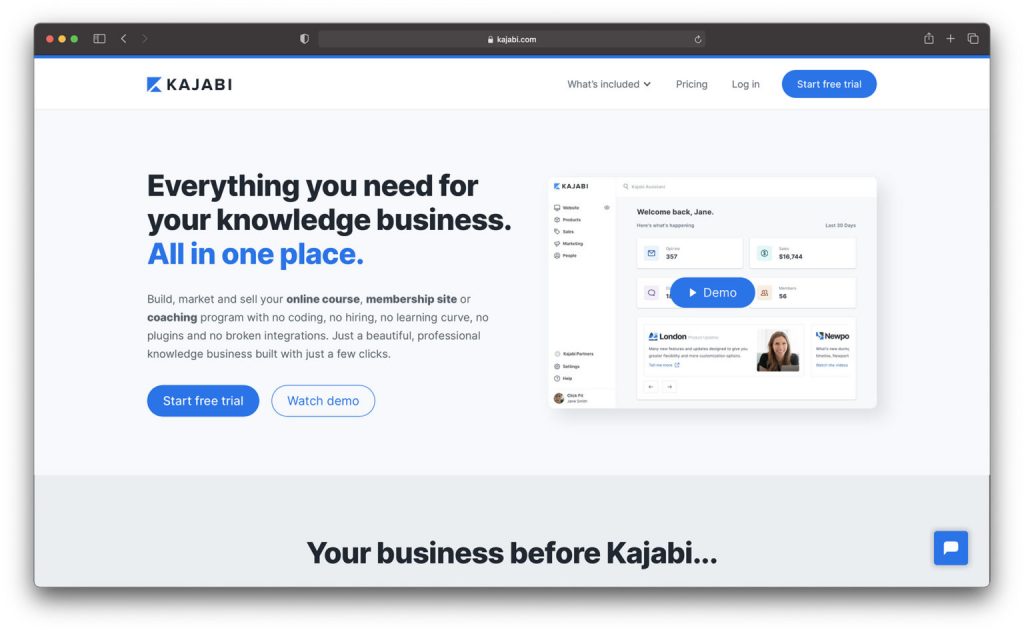 Pricing: From $119 per month to $319 per month (billed annually)
Kajabi starts at $119 per month for the basic plan for a single website, three pipelines, three products, and unlimited access to marketing emails. If you're looking to deliver an excellent learning experience with a fantastic checkout and access to digital products for a low price, this is the top online course platform for you.
Kajabi excels when it comes to creating landing pages and sales funnels. This solution provides you with all the tools you need to convert prospects into fully paying customers. We also love that you can manage the entirety of your e-mail marketing campaigns within Kajab itself. So, there's no need to sign up with a third-party platform. However, if you've already built a list with an e-mail marketing platform outside of Kajabi, you'll be pleased to hear this solution seamlessly integrates with other email marketing platfroms like Aweber, Mailchimp and Active Campaign. Checkout our guide on how to Boost online conversions with an embed maichimp popup or contact form and show real time conversions notifications for signups and subscriptions with WebsitesToolz. Let your visitors know what action others are taking on your Kajabi courses and compel them to follow suit and take action.
Plus, if you're taking content marketing seriously which we assume that you are, you should note that Kajabi also offers a pretty robust blogging platform. Although it's not as powerful as WordPress, Kajabi is streets ahead of the majority of its competitors where blogging functionality is concerned.
Who is This Online Learning Platform Best For?
Kajabi is one of the most sophisticated solutions on the market for creating online course platforms. It's ideal for speakers, solopreneurs, coaches, authors, etc. Pretty much anyone who wants to create a sleek looking website to market and sell their online course (in addition to other products they're selling). Despite the vast array of features and functionalities Kajabi provides, it's actually incredibly newbie-friendly. So if you haven't created an online course before, you'll be relieved to hear Kajbai offers several handy templates to help you create:
Mini teaser-style courses
Comprehensive courses
Evergreen training
Membership-based products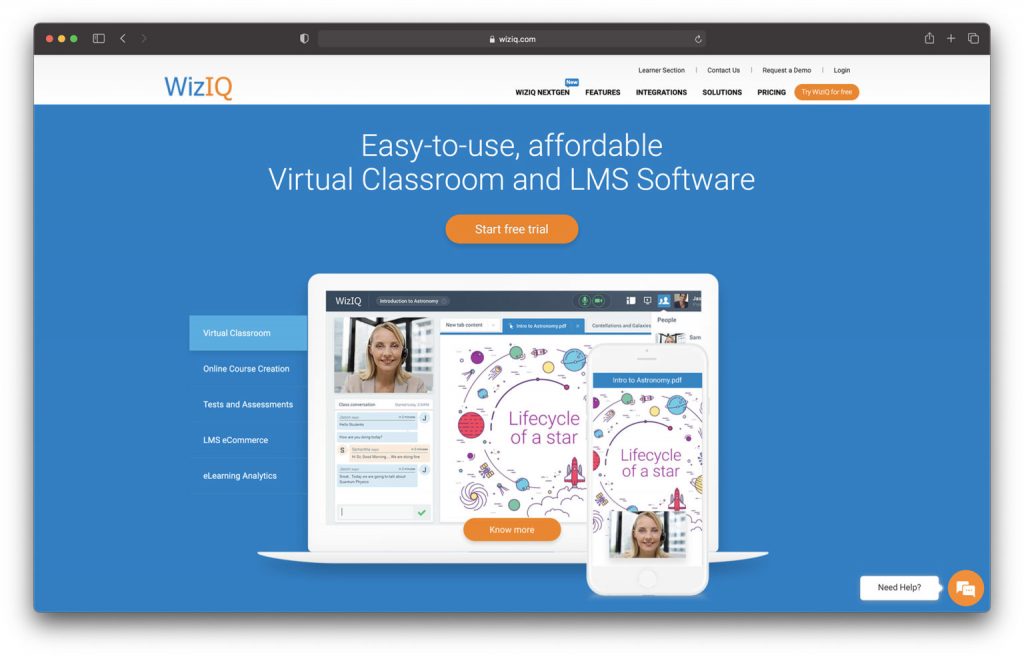 Pricing: Pricing is set annually, so it's quite affordable compared to some of the other leading tools that we've seen. You pay $159 per year for support for your website. If you want to run a 10-site license, then you'll pay around $189 per year instead. For 25 sites, you upgrade to $329 per year.
LearnDash is a fantastic tool, used by countless Fortune 500 companies and leading educational environments. LearnDash is adored for its speed, impressive online course materials, feature set, and so much more.LearnDash is a leading full-suite tool, complete with access for features that allow you to sell courses however you choose, drip out information, and even reward your learners too. The pricing is available on an annual basis, so it's quite affordable to begin with. You only need to pay a little to get started.
One of the most exciting things about LearnDash is that it's a WordPress plugin. This means you can add it straight to your existing WordPress site, without having to worry about building your own environment from scratch. This user-friendly solution comes with access to tools that allow you to create multi-tier courses where you can deliver content according to a person's knowledge. There's also a host of tools for frip-feeding your content to your audience based on a schedule, complete with lesson timers. You can also show gradebooks to your student, market courses with shopping carts and memberships and so much more. Display randomn review social proof notifications on your LearnDash course pages with WebsitesToolz. Checkout our guide on how to collect testimonials or feedback with the text feedback notification and send data to third party applications like Trello, SalesForce, or Asana.
Who is This Online Course Platform Best For?
LearnDash is one of the best online course platforms for people who want to build educational experiences into their existing WordPress websites. This all-in-one solution comes with automated email marketing tools, support for countless media types, and so much more. You can even access the option to let other people create courses on your site.