Shopify page builder apps help you build the perfect eCommerce website without touching a line of code. These days, you don't need a degree in web design to create the perfect store; you just need the right tool. This list of the best page builder apps for Shopify contains everything you need to know to create high-converting pages with zero hassle
Shopify is a quick and simple way to create an eCommerce store. It provides high-performance hosting and payment processing, with options for scaling your store as it grows. However, the default themes and templates it offers can be limited, and the page-building options can be restrictive. A Shopify page builder app lets you create the website you want more easily.
A Shopify page builder app is a third party plugin that helps you to design new web pages for your store. These apps provide more extensive features than those offered by Shopify's default page builder and come with fewer restrictions than the platform's pre-built themes. You create your page by dragging and dropping elements onto a template, adding your own headings, images, buttons and lists.
Whilst Shopify is a fantastically scalable eCommerce platform, the page builder and themes it provides are not as user-friendly or flexible as alternatives like BigCommerce. Using a page builder app lets you take advantage of Shopify's hosting, payment processing and plugins, without having to deal with its limited design tools.
Ease of use – Drag-and-drop editing means you can take an element straight from an app's library and place it onto the page. From there, you can tailor the margins and paddings to make sure your site looks great on all devices. Then, you can add your images, text and other content..
Variety and customization – The best apps have the biggest element libraries, and each element can be customized to suit your store. It can take some time to build the perfect website, but Shopify's best page building apps make it possible.
Integrations – The top page builders make it easy for you to add the elements your website needs. Sometimes, that means integrating a third-party solution, like a Shopify Social Proof app, trust badges, embedded forms or customer reviews platform. That's why you'll often see a separate library of 'third-party elements' to choose from.
Professional help – At points along your store building journey, you may run into problems. If that happens, you'll be glad of the email, live chat and telephone support that the best apps offer.
Improved design – Investing in user experience can produce a remarkable ROI. In fact, in a survey by the marketing agency BlueCorona, 48% of people said a website's appearance was the most important factor in judging its credibility.
Decreased bounce rate – A better user experience means a lower bounce rate and a lower bounce rate means a more prominent position for your store on Google. The coveted bounce rate for ecommerce is about 20 – 30%; the best page builder apps on Shopify can help you get there.
Increased conversion rate – Increasing your Shopify conversion rate is all about building trust. You can increase the level of trust that a customer has in your store, and therefore the conversion rate it produces, with a beautifully designed website.
First and foremost, a page builder needs to be easy to use. It also needs to create beautiful pages with a variety of elements. Having compared the different page builder apps for Shopify, creating countless stores and hundreds of pages, this is our list of the most essential features:
Drag-and-drop page building
Extensive library of elements
Wide selection of professional themes
Compatibility with other apps
Expert/advanced editing with code
A web page needs to do different things depending on where it goes in your conversion funnel. You also need to think about SEO, copywriting, image quality, device compatibility, and many other aspects of design. These are some Nice-To-Have Features for a Shopify page builder:
Customizable ranking factors (meta tags, image attributes, etc.)
SEO optimization
Seamless Shopify-format interface
Image compression and loading speed optimization
Personalization features like dynamic text or geolocation
With these features in mind, we have evaluated every option in the Shopify app store. This is our list of the top 5 Shopify page builder apps. Must read "How to setup shopify conversions with WebsitesToolz"
Whilst these are our 5 favourite Shopify page builder apps in 2021, it's worth noting that the best option for your website will depend on your own circumstances. Since all five of these apps offer a free trial or a free plan, it's best to them out for yourself.
⭐️ 4.9 with 3,094 reviews
| | FREE | Silver | Gold | Platinum |
| --- | --- | --- | --- | --- |
| $/month | 0.00 | 19 | 39 | 99 |
| All Features | | | | |
| Saved Sections | 1 | 5 | 20 | Unlimited |
| Pages | 1 per type | 20 regular, 2 per type | 30 regular, 5 home pages | Unlimited |
PageFly's sleek and professional look sets it apart from most of the competitor apps. It enjoys an impressive 4.9-star rating across thousands of user reviews, and many of them identify the versatile and user-friendly interface as a distinguishing feature. The app is responsible for over 53,000 pages across thousands of eCommerce stores, making it one of the most popular page-building apps in the world.
PageFly is clear and easy to navigate, with a user-friendly UI that gives you control of every element of your store. The option of editing your pages with code makes this a great option for both beginners and expert designers. Check this post out "Top 6 Proven FOMO Marketing tools to skyrocket your online conversions"
Key Features
Easy to use drag-and-drop system
Extensive library of over 50 elements
Broad template library with professional themes
Fully compatible with other top apps such as Loox, Mailchimp and Yotpo
Ability to fine-tune through coding
Comprehensive help centre, 24/7 live chat and YouTube support channel
⭐️ 5.0 with ~ 420 reviews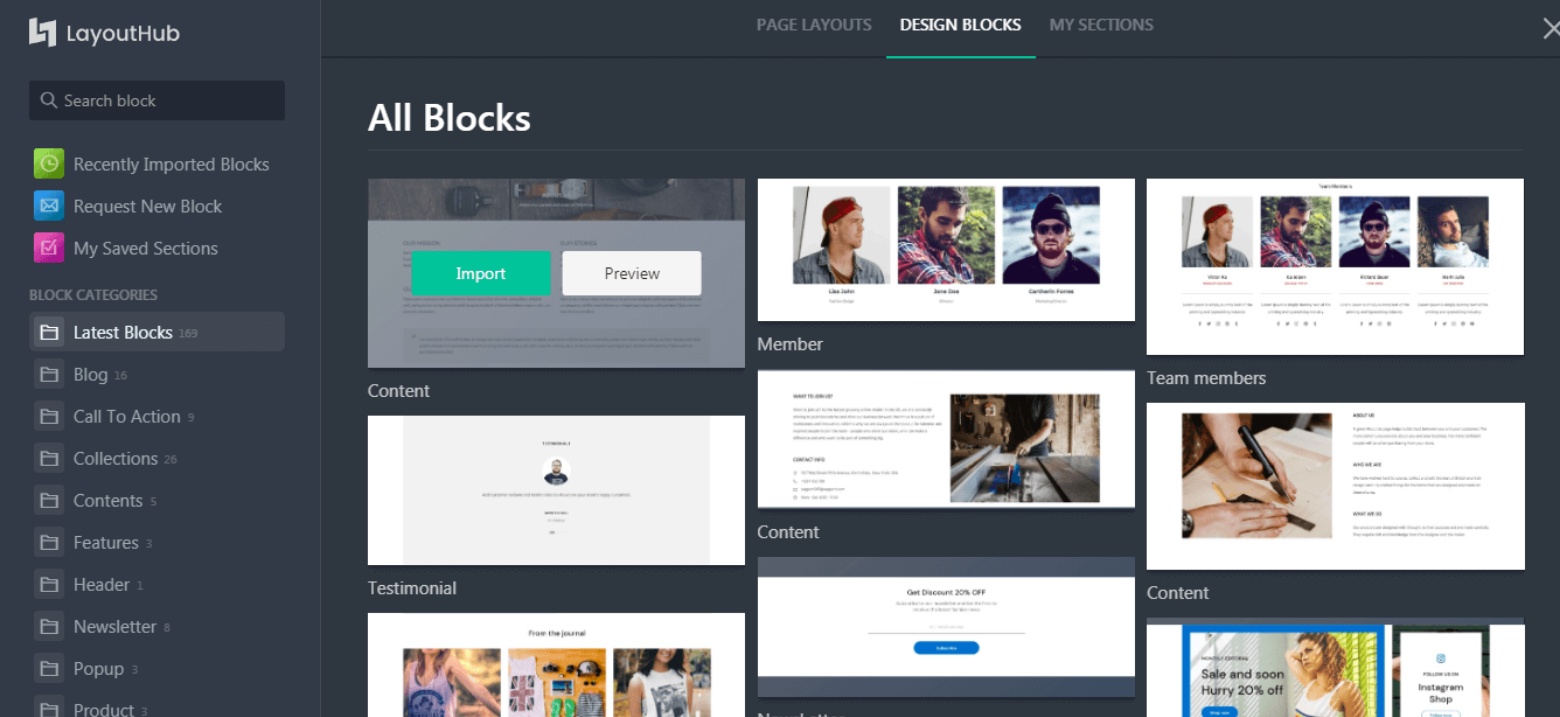 | | Free | Basic | Pro | Premium |
| --- | --- | --- | --- | --- |
| $/Month | 0.00 | 14.99 | 29.99 | 59.99 |
| Support | Email | Email | Email | Email |
| Pages | 3 | 10 | 50 | 100 |
| Footer Branding | Fixed | Removable | Removable | Removable |
LayoutHub uses block templates to build your store. The app is aimed towards smaller businesses and those new to Shopify, focusing on an intuitive interface and pre-built templates. The app is straightforward, but there are far fewer options than PageFly or one of the other page builders. Like PageFly, LayoutHub's most basic plan is free and comes with a 14-day free trial.
LayoutHub has a great look, that makes it feel like a part of your Shopify interface, and provides a range of templates to help beginners get started. However, the options for customisation in these templates is limited, and nowhere near the same level as other Shopify page builder apps. If you are looking for an out-of-the-box website that looks great, LayoutHub is a good option. Reccomend this post "Top 3 proven ways to reduce shopping cart abandonment"
Key Features
Large template library with great designs
Template blocks to import onto your page
Support in the help centre, as well as live chat and email
Reasonably-priced PRO plan, with all the main features
⭐️ 4.8 with 2,101 reviews
| | Build | Measure | Optimize |
| --- | --- | --- | --- |
| $/month | 49 | 99 | 149 |
| Pages | 25 | 100 | 200 |
| Analytics | | | |
| Support | Email | Live Chat | Live Chat |
Shogun helps you create beautiful, mobile-friendly pages. It is aimed at larger businesses and experienced Shopify users, with an emphasis on conversion rate optimization. Advanced plans allow its users to track the performance of their pages through click-through-rates, conversion rates, bounce rates and beyond, whilst the highest paid plans offer A/B testing. Unfortunately, these features come at a heavy price.
For a high-performance eCommerce website, Shogun provides an exceptional service. The customer support is well-reviewed, and the page builder allows you to create high-converting pages to any specification. However, for smaller businesses, investing in such a high-powered tool may be out of reach. A more affordable alternative would be combining a simple Shopify page builder app with an A/B testing tool. Also do check this post "12 Best social proof popups to instantly boost sales 3X"
Key Features
Drag and drop system
SEO tools
Built-in analytics
Mobile optimisation
Page publish scheduling
Split testing
Support over email and limited support on live chat
⭐️ 4.8 with 1,500 reviews
| | Starter | Advanced | Professional |
| --- | --- | --- | --- |
| $/month | 15 | 29 | 59 |
| Page Types | home and landing pages | All Pages | All Pages |
| Support | Email | Priority | VIP |
| Stores | 1 | 1 | 3 |
GemPages receives fantastic reviews from its users. It describes itself as 'the all-in-one DIY page builder', which highlights its focus on usability. The app offers video tutorials directly inside the UI, and the customer support is highly-rated. Perhaps the most distinctive aspect of the app is its focus on page loading speed. The use of a CDN and lazy-loading plugin should help to reduce your bounce rate and increase conversions.
Rather than integrating with third-party solutions, Gempages comes with a number of standard "mini-apps" that add dynamic elements to your pages. These widgets are a nice feature, but they should be used sparingly. Must check out this post "How to create awesome video popups with Websitestoolz"
Key Features
Drag and drop system
Optimisation for mobile
Fast loading for pages
In-built 'mini apps"
In-app tutorials
⭐️ 4.8 with 360 reviews
| | Basic | Plus |
| --- | --- | --- |
| $/month | 67 | 97 |
| Optimization | Reporting Dashboard | A/B testing |
| Pages | Unlimited | Unlimited |
| Page Types | Home, landing and product pages | Blog and booster pages |
Zipify is certainly one of the lesser-used options of Shopify's page builder apps, but it offers a more technical solution for store owners with a focus on optimization. The builder has an 'ever-growing' template library for you to choose from and still allows you to make precise changes to your pages.
Zipify gives you control over minor details such as breadcrumb navigation, and allows you to add features like countdown timers and 'buy boxes' (which compare product bundles and highlight the best offers on your store). Unfortunately, this is one of the more expensive Shopify page builder apps available.
Key Features
Drag and drop system
Buy boxes to show product comparisons
Fast loading for pages
A/B testing and split testing for "Plus" users
These five Shopify page builder apps all have something different to offer your store. Of course, trial and error is the only way to know exactly what works for you, but here are a few quick guidelines to help you know where to start:
It's completely free to claim a trial, it has a vast library of elements and templates and is one of the most reasonably-priced page builders available for Shopify. It's reasonably priced, easy to use and comes with features to help you create a competitive edge. The UI is as beautiful as the templates, the support is excellent and there are more features than you will ever need.
WebsitesToolz is one of the most effective Social proof marketing tools. We turn your online visitors into customers with 24 different types of popup notifications with call to action ideal for every online business. You could create and display a stream of conversion notifications, product counter notifications, Video Popups, Phone number collectors, Linktree Popups, Countdown clock email id collectors, Modal lead collectors, Discount popus, Hello bar notifications, Text feedback popups and many more. You could easily integrate with all your favourite applications using webhooks or a service like Zapier.