People love videos. They really do. If you're not using a video popup on your site, you're missing a golden opportunity to boost engagement, leads, and sales. Recent reporting from Wyzowl states that 79% of people confess to buying software or an app because of the brand's persuasive video. And a completely mind-blowing 96% of people have watched an explainer video to learn more about a product or service. In fact, based on Wyzowl's research, 68% of people said they'd rather learn about a new product or service from watching a short video than any other way. Even infographics only earned a meager 4% of the love! On top of all that, 48% of people said they were more likely to share a video they enjoyed than other types of content.
For a small to medium sized business owner who would like to incorporate video into their sales and marketing tools, WebsitesToolz video popups are just what you need. Video testimonials offer a great way for prospective customers to not only see and hear what current customers have to say about your company, but to make the connection even more relatable. The more engaging the video the better so that the prospective customer understands their challenges, recognizes that that they share the same issue, and see how working with your company or using your product can solve that problem for them too. Click Here to read my blog post "Top 3 ways to boost online conversions with lead magnets"
But Why Video Popups?
Videos embedded on your website or online store home page may not always be visible to your online visitors, they are static and are accessible only when your prospects visit a particular page. Video popups are dynamic, you could set them up to display on any page you like or all pages etc. You could set triggers to display based on your online visitors behaviour viz; on timer delay, on page scroll percentage or when the visitor is about to exit. This way you get 10X more juice from your videos as against when they are embed on a page, boost engagement and drive online sales. One major advantage of using WebsitesToolz is that you can load the video inside of the campaign. This means that it won't be hosted on your site, so your site speed won't suffer. WebsitesToolz helps you create a responsive video popup using youtube videos that's suitable for viewing even on mobile devices. With an estimated 14 billion mobile devices in use by 2020, having mobile-friendly video popups is crucial.
So today we are going to share with you how you can create awesome video popups using WebsitesToolz with a call to action button. The best part is its so easy you dont need to know coding or any of that difficult stuff, you can display video popus within minutes. This is what your video popup will look like.
How to create awesome video popups with Websitestoolz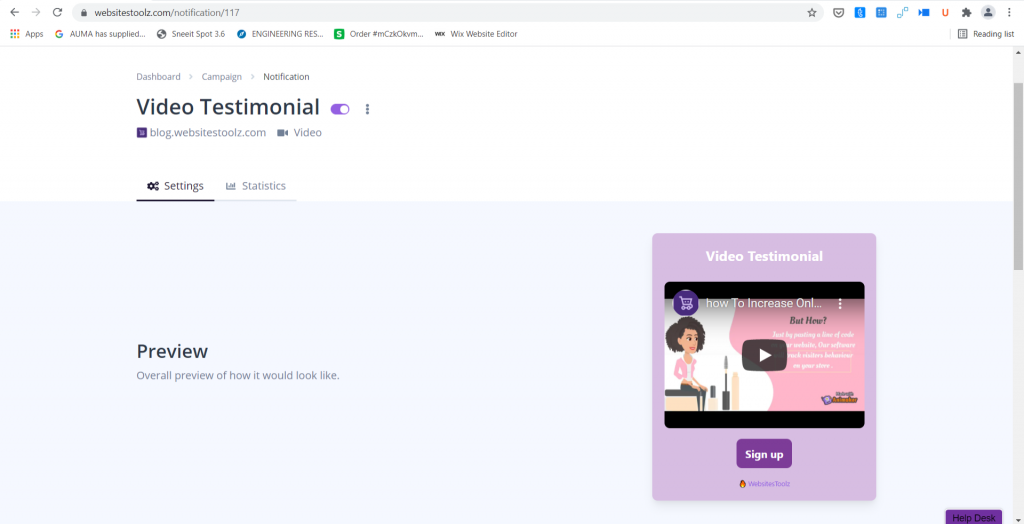 If you have an account with WebsitesToolz head to the dashboard and select your campaign. If you dont have an account, you could signup with just your email id, no credit card required. WebsitesToolz has a FREE plan and you could stay on that plan for as long as you like. The next steps are as below.
Click Here to view our guide on how to paste WebsitesToolz pixel on your wordpress website. If you have a wix, squarespace, shopify, woocommerce or any other site, you can find steps for the same as well.
Create your first campaign. Click here for steps on how to setup your campaign. Once you have completed this step, Select the campaign and click create notification. From the list of all the ntifications select the Video notification, scroll to the bottom of the page and click the Create button. Now you will see this page.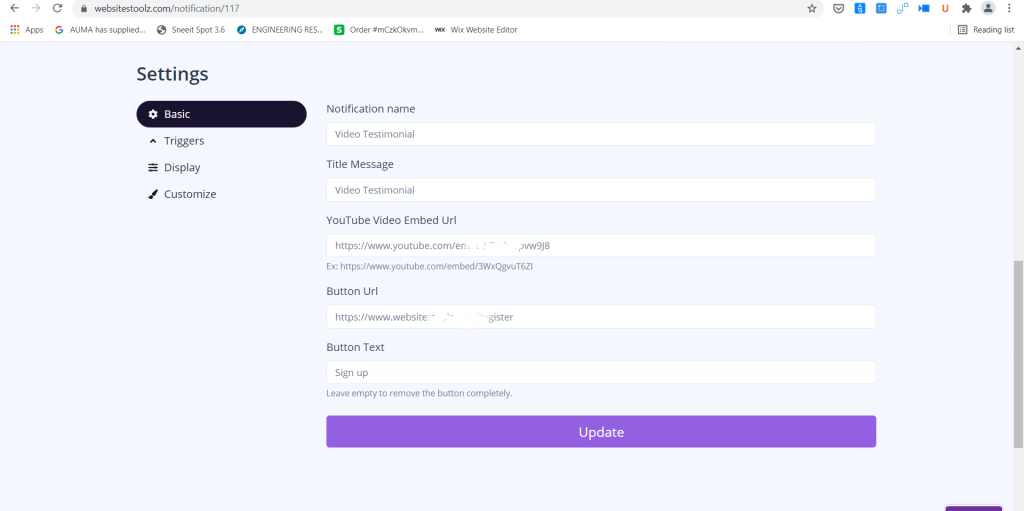 Give this notification a name, Give it a title that will display on top of the video popup. In the next step i will show you how to get the YouTube Video Embed Url. If you want your visitors to take action on your video, you could add a call to action button to signup, subscribe or register and set the Button Text and Button URL accordingly. Click on the Update button.
As you can see under Settings we have completed the Basic settings. Similiarly you can click on each of the tabs Triggers, Display and Customize to setup your video popup as per your requirement. Click here for a more detailed guide on the same. Next head over to your youtube video you want to add to your video popup.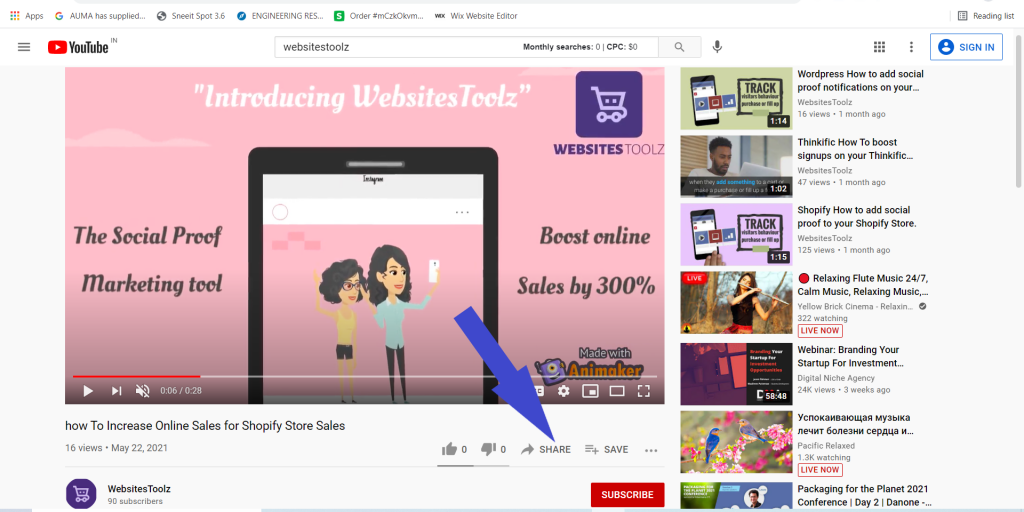 Next Click on the Share button. You will see a popup with share options, select the embed option to get the Youtube Video embed url as shown below.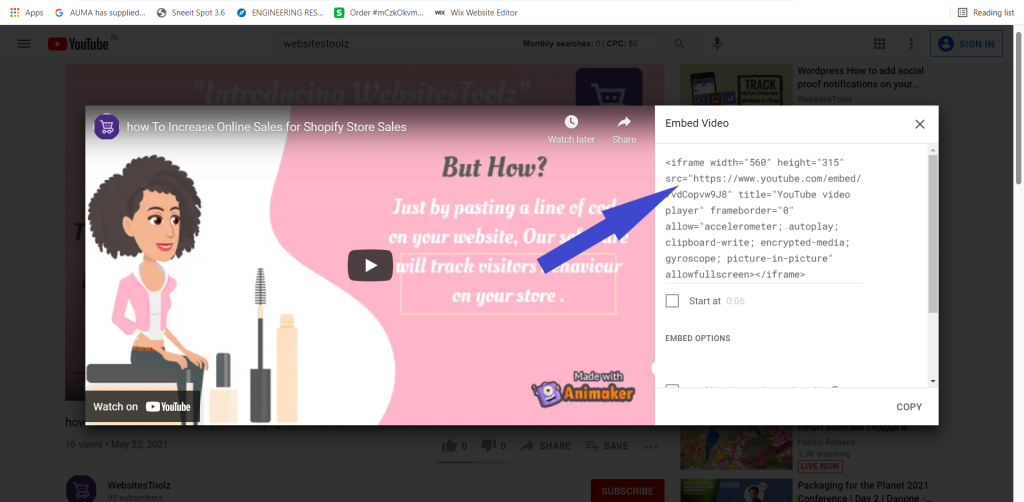 Copy the the YouTube video embed url within " " and head over to WebsitesToolz dashboard. Open the Besic tab under settings and paste the URL in the input field YouTube Embed URL as shown n the first image above and click Update. Finally make sure to turn the toggle ON for this notification and the Campaign toggle as well. Congrats youe video popup is now live. Click here if you need help with troubleshooting.
WebsitesToolz is one of the most effective Fomo marketing tools that let you choose from 24 different types of notifications with call to action on your website. Ideal for every online business. You could create and display a stream of conversion notifications, product counter notifications, countdown clock lead collectors, Modal lead collectors, Discount popus, Hello bar notifications, Text feedback notifications and many more. Click Here to read my blog post "Top 6 proven FOMO marketing tools to skyrocket your online conversions"