You've found your niche, built a brand and picked a theme, but there's one thing your store is still missing… The right plugins can take your Shopify store to the next level by improving your Customer Experience or making your products irresistible. These are the very best Shopify plugins for eCommerce sites in 2022, handpicked by eCommerce experts.
The 30+ Best Shopify Plugins in 2022
What You Need To Know About Shopify Plugins
Shopify Plugins For Your Store
1. WebsitesToolz – "Social Proof and FOMO Notifications"
2. Locksmith – "Access control, for anything in your online store"
3. Free Shipping Bar – "Free shipping bar to boost order value"
4. Product Reviews – "The simplest way to share your customers' experiences"
5. Product Filter & Search – "Product filter & search solution to increase sales"
6. Infinite Options – "Customizable product options & product bundling"
7. Store Locator – "Create an unlimited number of dealer / store locations"
8. Loox – "Collect product reviews with photos & boost sales with reviews"
9. Easy Contact Form – "Impress with Stylish and Profession Contact Forms"
10. Edit Order – "Advanced order editing options, automation, and more"
11. Candy Rack, One-Click Upsell – "Step up your upsell game"
12. EU Cookie Bar ‑ "Provide a cookie banner to EU customers"
13. Trusted Site – "Build trust and increase conversions"
Analytics Plugins For Shopify 
14. Yandex – "Real-time traffic, performance analytics & session replays"
15. Simply Cost – "Add costs and track profits"
16. PageSpeed Monitor – "Monitoring and alerts for Google PageSpeed Insights"
Drop Shipping and Logistics Plugins
17. Syncee -"Product Sourcing, easy Upload & Updates"
18. AfterShip – "Boost sales with branded tracking page & delivery updates"
19. Stock Sync Inventory Update – "Inventory Management"
20. Pre-Order – "Sell Pre-order, Out-of-Stock, Sold Out & Coming Soon Products"
21. Easy Ship –  "Access the largest courier network with seamless checkout"
Marketing Plugins For Shopify
22. Blog Studio – "The drag-and-drop way to tell your story"
23. Referral Candy – "We've run referral programs for over 30,000 stores"
24. Whatsapp Chat + Abandoned Cart "Automated Cart Recovery"
25. Smart SEO – "Automate your on-site SEO"
26. Google Shopping & Ads – "Manage Actions, Google Ads & Shopping Feed"
27. Rise – "Launch a Loyalty Program w/ Store Credit, Gift Cards & Rewards"
28. PageFly – "Build landing page, product page, FAQ, home page & Funnel'
29. Refersion – "Manage, track, and grow your affiliate marketing program"
30. Growave – "Grow sales with loyalty, reviews, rewards, wishlist + apps"
31. Sixads – "Get Quality Traffic From Partner Stores"
How To Calculate The ROI For Your Shopify Plugins
Conclusion
Every store needs great salespeople. They also need security, marketers and accountants. Luckily, Shopify store owners don't need to worry about hiring staff. Instead, a dedicated, 24-hour workforce of Shopify plugins do the same thing for a fraction of the cost. These plugins will cut your bounce rate, reduce basket abandonment and boost your conversion rate immediately.
What You Need To Know About Shopify Plugins
Shopify offers nearly 4000 different plugins in the app store, and over 1500 of them are completely free. That's great news for store owners, because it means you can automate a number of the tasks you do on a daily basis.
Unfortunately, nothing is ever truly free. Most plugins will charge you to use their best features, all of them take time to set up, and every plugin you use affects the loading speed of your site. So, the key is to know what you need and to be selective. We have split our list of the 30+ best plugins for Shopify stores into four groups, so you can find the ones you need easily.
Shopify Plugins For Your Online Store
These Shopify Plugins allow you to expand your site with new features. They can increase your conversion rate, reduce abandoned baskets, or simply create a better customer experience.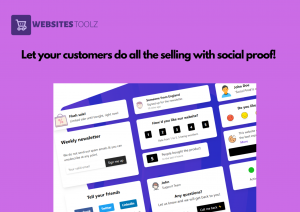 4.5 Stars, free plan
WebsitesToolz comes with a variety of upto 24 different widgets and social proof tools. Customize the background, icons, display and triggers as per your own choice. This social proof software tool stands out in terms of the customizations you can have. You can create notifications that look and sound exactly how you want them to, without a developer and without a single line of code.
Create manual and realtime social proof popup notifications. Customise the title and description of the popup notifications in a language of your choice. Show popups when somebody signs up, adds something to a cart or makes a purchase on any website including wordpress, wix, squarespace, shopify or woocommerce store. you can show realtime paypal and stripe transactons as popups on your website. Integrate with over 1000 applications using Zapier or webhooks.
Key Features:
Product notifications: Create FOMO with number of people who have purchased a product.
Video Popups: Build credibility and trust by showing youtube video testimonial popups on your website.
Recent Activity: Show a live feed of manual and realtime activity happening on your site right now.
WebsitesToolz pricing starts at $9/month ( and $5/month when billed annually) for up to 25,000 notifications impressions per month. This is definitely the best deal in the market considering all the customisations and features loaded.
4.8 Stars, 15-day free trial
Locksmith allows you to "lock" content on your Shopify store, restricting access to certain pages. You can then decide who gets to see those page by creating "keys." For example, you might choose to show people a page once they become a registered customer, add a certain amount to their basket, or use a passcode. The plugin is a very simple way to increase your average order value, and creates a powerful sense of FOMO.
$9/month – Shopify Basic
$29/month – Shopify Regular
$79/month – Shopify Advanced
$199/month – Shopify Plus
4.9 Stars – free plan
Customers expect free shipping to be included whenever they place a large order. In fact, one of the main factors in any store's cart abandonment rate is their delivery policy. So, this plugin should help to reduce basket abandonment immediately. It keeps a running score of your customers' orders and calculates the total needed to qualify for free shipping.
$0/month – 1 shipping bar
$9.99/month – Unlimited bars + analytics
4.5 Stars – Free
Shopify's own solution for displaying product reviews is simple to install and easy to use. Customer reviews have a huge influence on your sales. According to research by Spiegel Online, the likelihood of a product being sold increases by 270% when it has five or more reviews. Whilst some people may like added features (such as the ability to prompt customer reviews with an automatic email) this is a no-brainer for most users.
4.9 Stars, 14-day free trial
Filter and search plugins make it easier for your customers to find what they're looking for. This one enables you to set up filters within your product collections, so customers can browse by category or enter a search term. Making it easier to find something reduces Friction on your website, a key part of running any successful business.
$19/month – 1000 products
$29/month – 2,500 products
$39/month – 5000 products
$59/month – 7,500 products
4.9 Stars, 14-day free trial
Some products require more personalisation or choice than Shopify allows in standard themes. Infinite Options is a Shopify plugin that allows you to add extra choices and personalisation to your product pages. It also gives you a number of different ways of presenting these options (such as radio buttons, checkboxes or number inputs).
$5.99/month – unlimited options + styles
4.9 Stars, 14-day free trial
Brick-and-click is the most common form of retail. It combines eCommerce with real physical stores, giving customers the option to buy online or in person. Store Locator adds clear directions (or maps) to your real-world store, so customers can find the nearest location.
$0/month – 1 store location
$9.99/month – 2-50 store locations
$19.99/month – 51-500 store locations
$39.99/month – 1,000,000+ store locations
4.9 Stars – 14-day free trial
If you want to show your reviews in a more sophisticated way, Loox allows you to display galleries of former customers in HD. You can share the reviews in social media posts, galleries or pop-ups. The great thing about user-generated content (UGC) like this, is that it is regularly updated and requires no extra effort on your part.
$9.99/month – 100 review request emails
$29.99/month – 500 review request emails + Basic features
$59.99/month – 1,500 review request emails + Advanced features
$99.99/month – 1o,000 review request emails + Pro features
4.8 Stars – 30-day free trial
A custom contact form might seem unnecessary, but it can have a real impact on how your customers feel. As Chip and Dan Heath show in their The Power of Moments, the things that stick in our minds tend to be experiences that are unusually good (or bad). Making the extra effort to be available when it matters can make a big difference to your customer experience.
$9.99/month – 3000 visits + 1 contact form
$19.99/month – 15,000 visits + 5 contact forms
$49.99/month – 150,000 visits + 10 contact forms
4.4 Stars – 14-day free trial
Sometimes, customers change their mind. Other times, they simply type the wrong address or choose the wrong size and colour. For Shopify store owners, that means finding and cancelling the order then creating a new one. In fact, most stores don't let customers amend an order once it has been confirmed.
The Edit Order plugin removes all of this stress by allowing store owners to easily change an order as long as it hasn't been shipped. You can adjust the shipping details, billing address and even product options. Giving your customers the chance to change their order reduces Friction and makes it more likely that they will buy something in the first place.
$29/month – Reset orders
$59/month – Reset custom orders + advanced search
$89/month – Shopify flow automation
4.9 Stars, 14-day free trial
Candy Rack creates attractive pop-ups, with suggested items for your customers to add to their baskets. The plugin makes suggestions based on your customers' choices and uses an in-built AI algorithm. That way, someone shopping for tech gadgets might be offered a warranty, whilst a customer looking for shoes might be offered socks.
$29.99/month – Only [SALE] pop-ups
$49.99/month – Shopify Regular
$69.99/month – Shopify Advanced
$199.99/month – Shopify Plus
4.7 Stars, Free
EU legislation requires that every website asks its users' for permission to create cookies as they browse. To make it easy for stores to comply with this, the EU Cookie Bar Shopify Plugin provides a free opt-in bar. Helpfully, you can target particular geographical regions – so only EU visitors see the bar.
4.6 Stars, Free plan
Analytics Plugins For Shopify
Google Analytics may provide you with all the information you want about your site. However, it comes with a steep learning curve and a lot of hassle. The advantage of a Shopify analytics plugin is that it can show you tailored insights directly within your workspace.
4.9 Stars – Free
Yandex is a relatively new option from the Shopify app store. It provides real-time traffic and performance analytics, as well as session replays. That means you find out what is going on in your Shopify store and why it's happening.
4.8 Stars – 14-day free trial
This plugin tracks your total business profits automatically. It provides monthly reports that include both one-off expenses and your advertising spend. That means you can market your products with Facebook or Google without worrying about your bottom line. The advantage of a more in-depth analytics platform like Simply Cost is that it allows you to see which of your products are the most profitable (rather than just the best-selling).
$4.99/month – one plan for every type of customer
5 Stars, 7-day free trial
Time and time again, studies have shown that loading speed affects your sales. This free and simple Shopify plugin monitors your page speed on an hourly basis, by piggy-backing on Google's free page speed analyser. Once it has gathered your scores. the plugin creates dashboard elements directly within your Shopify interface. You can also set up alerts for your mobile phone or email, to get notified if your page speed drops below a particular level.
$1/page – free to install
Dropshipping and Logistics Plugins For Shopify
Dropshipping is a form of eCommerce where the merchant does not stock the products they want to sell. Instead, a dropshipper will market their products, send any orders to the manufacturer, and then arrange for the purchase to be shipped to the customer. For a great introduction to dropshipping with Shopify, you can access the online academy course for free.
4.8 Stars, 14-day free trial
This plugin provides a simple way to manage your products and prices, combining all of your supply information in a single system. Syncee has an in-app database of suppliers that you can browse for new products to add to your store. It also allows you to upload products from your own data feeds, making it easier to update your stock list.
$19/month – 500 products
$29/month – 1000 products
$39/month – 3000 products
$69/month – 5000 products
$99-699/month – see all pricing plans
4.8 Stars, 14-day free trial
Aftership provides your customers with a way to track the items they buy from your store. By engaging your customers after the purchase, you improve their overall experience and make it much more likely that they will buy from you again in the future.
The plugin gives customers an estimated time of delivery and sends automatic notifications to them when their purchase arrives.
$0/month + $0.5/excess order – 100 orders
$9/month + $0.08/excess order – 100 orders + email/sms alerts
$29/month + $0.08/excess order – 500 orders
$99/month + $0.08/excess order – 2000 orders
4.7 Stars, 14-day free trial
Stocksync helps you manage your inventory. If your store sells products from a number of suppliers, you need a Shopify plugin to help you manage them. This one allows you to set pricing rules, integrate multiple file formats and data feeds, and manages all of your vendors and suppliers.
$0/month – 3000 SKUs
$5/month – 4000 SKUs + 1 update feed + 12 hour frequency
$10/month – 10-50,000 SKUs + 3-10 update feeds + 6 hour frequency
$49/month – 100,000 SKUs + 15 update feeds + 3 hour frequency
4.8 Stars, Free plan available
Pre-order Now automatically changes the buttons on your product pages when you run out of stock. It allows customers to pre-order items that would otherwise be unavailable. It also adds a useful badge to "out-of-stock" and "coming soon" products.
$0/month – Product page badges
$23.95/month – Unlimited Pre-order apps + all pages badges + premium support
4.8 Stars – Free to install
Most Shopify stores sell physical objects. The problem is that every purchase has to be packed, shipped and delivered, increasing costs for both the seller and the buyer. Easyship is a user-friendly shipping app that comes with discounted shipping for over 100 companies (including FedEx and UPS).
You also have the option of creating workflows to decide which company ships which product (depending on weight, size or location). That way, you can automate the process and keep your costs down.
$0 + External Charges – Free to install
Plugins For Marketing Your Shopify Store
4.5 Stars, 14-day free trial
Content marketing allows you to build a search engine presence and to connect with your customers in a different way. Alongside that, you can develop a referral network by arranging guest-posts with affiliate websites, bringing extra traffic to your site. Blog Studio makes the process of starting and managing a blog easier.
$14.95/month – All features
4.9 Stars, 30-day free trial
Referral Candy makes it much easier for your happy customers to spread the word. The plugin displays popups and sends emails to your customers, offering them incentives to refer a friend. You can then track who has referred new customers, as well as monitoring your whole referral campaign.
$49/month – Unlimited customers,
Enterprise Pricing – See all plans
5 Stars, 7-day free trial
The Whatsapp Shopify plugin creates a live chat button that customers can use to contact you. If they have a question or can't find what they are looking for, they can send you a message. Then, once they have initiated a conversation or placed an order, you can contact them with order confirmation messages and delivery notifications. You can even send recovery messages when someone abandons a purchase.
$0/month + $/message – Unlimited chats + analytics
$7.99/month + $/message – Multiple numbers + greetings widget + share button
$19.99/month + $/message  – Manual messages + cart recovery + order confirmation
$29.99/month + $0.02-0.08/message – Automated messaging
4.9 Stars,  7-day free trial
This plugin automates the meta data and alt tags that make your Shopify store visible to search engines. It is relatively simple to add these elements to your site manually, but this tool will save you that time at a reasonable price.
$4.99/month – one plan for every store
4.9 Stars, 7-day free trial
This Shopify plugin allows you to manage your Google Search ads and make your Shopify products visible across Google's advertising network. It also allows you to integrate your Google Shopping and Shopify data, so you can track sales and marketing costs across both platforms.
$29/month – 500 SKUs
$59/month – 10,000 SKUs + 24/7 support + real-time analytics
$109/month – 60,000 SKUs + Shopping Ad creation
$199/month – 150,000 SKUs + Search Ad creation + account manager
4.9 Stars, 7-day free trial
Rise allows you to create loyalty programmes, increasing the average lifetime value for your customers. Your loyalty programmes are administered in the form of store credit, which can also be purchased by your customers as gift cards.
$19.99/month + $0.2/excess order – 100 orders
$59.99/month + $0.15/excess order – 400 orders
$199.99/month + $0.1/excess order– 2000 orders
$599.99/month + $0.05/excess order – 12,000 orders
4.9 Stars, 14-day free trial
Designing and customising your store with Shopify's themes and customisation tools is not straight-forward. Sticking to Shopify's built-in page editing also means you are limited to certain styles. A user-friendly page-builder like Pagefly allows you to create any kind of page and incorporate it into your Shopify store. It is a reasonably-priced alternative to apps like Shogun and GemPages.
$0/month – 3 pages + 15 templates + basic elements
$9.95/month – Unlimited pages + 40 templates + advanced elements
$29.95/month – Collection/Coming Soon/Import-Export pages + slideshow element + blog post
4.7 Stars, 14-day free trial
Refersion is one of the most popular Shopify Plugins for businesses who want to use influencer marketing. The plugin helps you to recruit, track, and pay your chosen influencers, and even track the performance of your campaigns.
$89/month – 130 affiliate orders/month
Enterprise pricing – see all pricing
5 Stars, 30-day free trial
This Shopify plugin is an all-in-one customer engagement platform that combines many of the features from other options. Growave provides a range of notifications, emails and widgets that you can add to the customer journey. These can be combined with customer loyalty and referral programmes, improving your brand strength, customer retention and acquisition.
In addition to all these on-page features, the plugin also helps you to gather reviews from your customers.
$0/month – 100 orders + basic reviews + basic wishlist + Growave branding
$59/month – 500 orders + all features + automated emails
$119/month – 1500 orders + referral programme + VIP programme
$299/month – 4500 orders + Shopify flow + integrations + phone support
4.6 Stars, Free plan
Sixads is a platform that allows any store to exchange ads with other users. The ads are displayed in a "partner products" widget that can be tailored to match your store's appearance. Alongside this, the plugin provides a way to manage your Google and Facebook ads.
There is a skill to using this plugin effectively, and it won't suit everyone. However, if used in the right way, it can help you to grow and diversify your traffic.
Free – You display third-party content on your site and pay to "boost" your ads.
How To Calculate The ROI For Your Shopify Plugins
Businesses calculate their ROI (return on investment) by comparing the revenue increase they have achieved with the investment they have made.
Example 1A) a marketing campaign (or a new plugin) that cost $3000 and brought in an extra $4500 in revenue would have given a ROI of $1500 (or 50%).
It's important to remember that ROI is relative to the time it took to achieve it. A 50% ROI over one year (which, for Example 1A, would be $1500 per year) is significantly more valuable than a 70% ROI over three years (which would be $700 per year). Unfortunately, in the world of eCommerce, it's often difficult to attribute a rise in sales to a new plugin or campaign.
How To Attribute Your ROI Accurately
If you receive more traffic in the weeks after you install a new plugin, you might get more sales regardless of how effective the plugin was. Because of this, the best way to think about the ROI for a Shopify plugin is to calculate your Conversion Rate with and without it.
You can easily monitor your website's conversion rate from your store's analytics dashboard.
However, conversion rate can also be affected by things like the time of year or changes in the quality of your traffic. So, to make absolutely sure that your Shopify plugin really is improving your conversion rate, you can create a more direct experiment.
Most plugins allow you to target different pages (or days of the week). By doing that, you can compare the increase or decrease in conversion rate for the pages (or days) on which the plugin was active. To access detailed information about your store's conversion rate, you need to go to the "Behaviour" section of your store's Reports.
The Best Shopify Plugins For Your Store
Using the right plugins is not an alternative to having a great value proposition. You still need to offer people something they can't get anywhere else. However, if you're starting a new business, or getting bogged down in repetitive tasks, a Shopify plugin can make your life a lot easier.
One last thing…
It's important to remember to review any of the apps or plugins that you use. Customer ratings have a big impact on the popularity of any new plugin, and it's in everyone's interest to make sure the very best ones get the most attention.
[