How to effectively use social proof popups to boost online conversion rates, increase shopping cart values, boost ecommerce sales. If this question has been taking too much of your time then this blog post is just for you. Unlock your ecommerce sales potential with the help of social proof popups. The key to an effective social proof popup startegy lies in the design of popups. setting the frequency of display, the triggers when to display popups. Using too many popups or choosing irrelevant type of popups can be a disadvantage. If used effectively social proof popups can create FOMO, a sense of urgency among your online visitors and influence them to take the desired action. Whether you are looking to boost sales for your ecommerce store, increase signups on your landing page, drive registrations for your events or webinars, social proof popups will only increase online conversions over time and hence must be a key element of your online marketing strategy.
Social proof is the idea that people will be more likely to make a purchase if they see that other people have already made the same purchase, or if they feel that the product is popular. Seeing that other people have already made a purchase, or feeling that the product is popular, can be a powerful influence in motivating people to make a purchase.
So what is social proof? Social proof, also known as informational social influence, is the concept that people will conform to the actions of others in an attempt to reflect correct or appropriate behavior. It is seen in many facets of life, such as product reviews on shopping websites, celebrity endorsements of brands, or seeing strangers in an elevator politely smiling at each other. Social proof is a powerful driver of human behavior that can be advantageous for marketers and businesses trying to boost their sales and reputation.
Here are some tips to effectively use social proof popups to boost online conversion rates, increase shopping cart values, and boost ecommerce sales: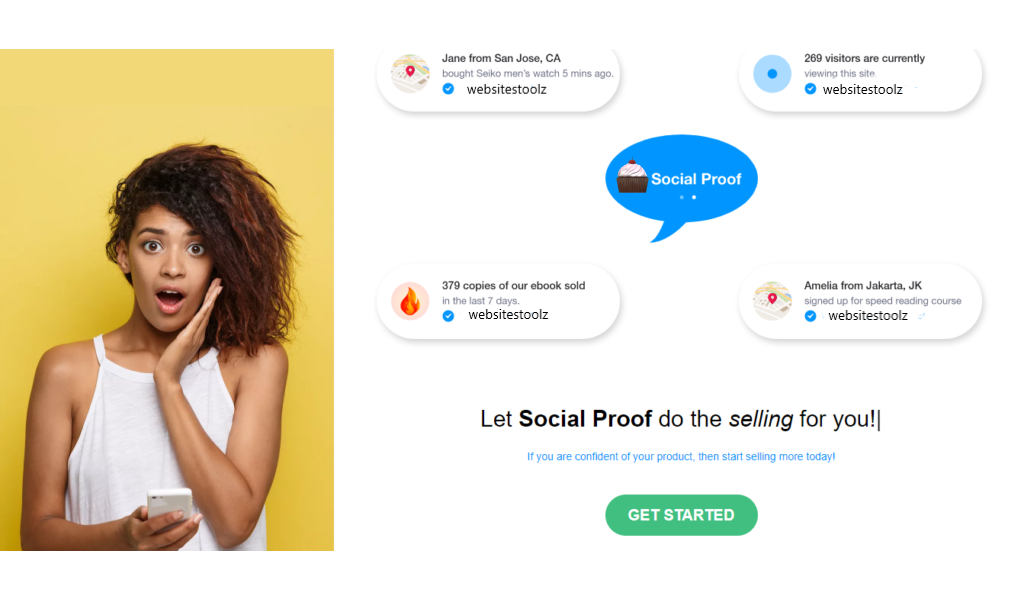 1. Customer Feedback Popup:
Customer feedback popups are a great way to collect user generated input and use this data for more actionable decisions to fix and grow your business. This will give online visitors and potential customers more confidence to make a purchase, as they will see that others have been satisfied with the product. With WebsitesToolz Feedback popup you can instantly collect user generated customer feedback and using the webhooks feature you can trigger action in a third party CRM or helpdesk software that you use so you could have the concerned team take action on the feedback almost instantly and all this is automated at WebsitesToolz. Click Here for a step by step guide on how you can setup this feature using WebsitesToolz.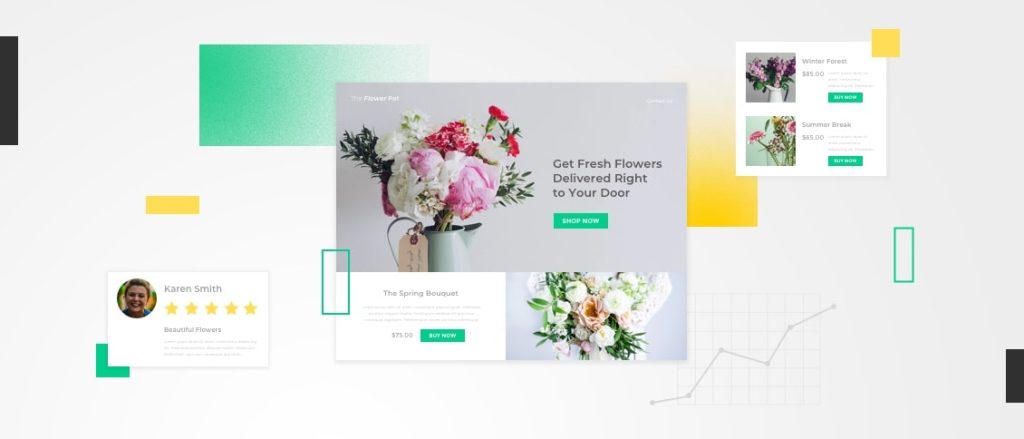 2. Customer Testimonial Popups:
Displaying customer reviews or testimonials from previous customers to show potential customers how they have benefitted from your product is a great example of social proof. With WebsitesToolz you can create manual text reviews with beautiful design and graphics with ratings as a popup. You can also display youtube videos (product demo video/ customer testimonials) as a popup on any page (you can set the triggers, display frequency etc) which the user can view by clicking on the play button. Video popups are super powerful as they have an instant connection with the user and almost instantly compels the visitor to click on the buy, signup or register button. Click Here for a step by step guide on how you can display video popups in just a few minutes using WebsitesToolz.
3. Realtime Social Proof conversion Popups:
WebsitesToolz allows you to create and customize and display manual as well as real time conversion social proof popups on your website or ecommerce store. WebsitesToolz Latest Conversions popups allows you to customise and display fully automated popups on your website or store. Depending on the settings you have customised, every time there is sale or transaction on your website, the popup will display details on the popup as you desire. for example, "Joe from New York, Just purchased Mascot Aviator Sunglasses at $29.99" Similiarly you can fully automate and display WebsitesToolz Conversions Counter popups to display in real time your Best selling items to your online visitors. For example, "25 Qty Shein floral Summer dress sold in the last 24 hrs" This counter will keep updating by itself and will trigger a new popup everytime this item is purchased on your store. This way visitors can click on that popup and they will be directed to that product page where you may display another popup almost sold out, Only 2 qty in stock, etc. This way the effect of FOMO kicks in creating a sense of urgency among your online visitors compelling them to take action. Click Here to learn more on how to configure this popup.
4. Email capture Popups:
While social proof marketing is a great way to boost your sales by showing your site visitors that other people also enjoy your products, you can earn even more trust by creating a sense of urgency in your site visitors. For example, you can offer a limited time discount on your website, and use WebsitesToolz countdown clock timer popup to capture email ids. The countdown clock timer popup creates FOMO, showing visitors that time is running out for the deal and they must act immediately in order to benefit and make a decision. This is a great way to encourage your site visitors to purchase products quickly before time runs out. There are multiple modal and hello bar type widgets and popups for email lead capture. Choose a popup that meets the needs of your business. Customise the design, the display frequency and triggers and your ready to grow. Check out this blog post "7 Converting Email Popups that you want to add straight away"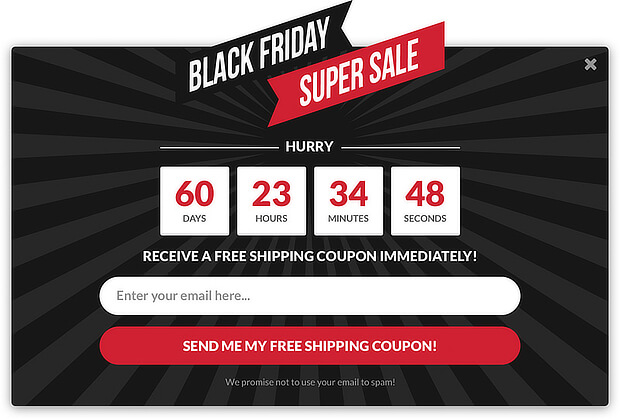 5. Phone number capture Popups:
Everybody knows about email capturing popups which are extremely popular for your email marketing campaigns. Capturing your website visitors phone number can be used for sales, marketing, webinars, events etc.
With WesitesToolz You could customise beautiful request collector popups with images, set the display and triggers as per your needs. The beauty of this popup is you could ask the user to drop his phone number to schedule a call back or you could offer a giveaway in exchange for phone number and use this in SMS or Whatsapp marketing campaign. You can add a contact to any predefined SMS marketing campaign depending on on which page the lead is captured or the location data to add to specific regional SMS marketing campaign. The ideas are plenty. Using the webhooks feature you could send the captured phone number and trigger an SMS campaign or add contact in any of your favourite third party CRM or email marketing application automatically. Click Here for more details.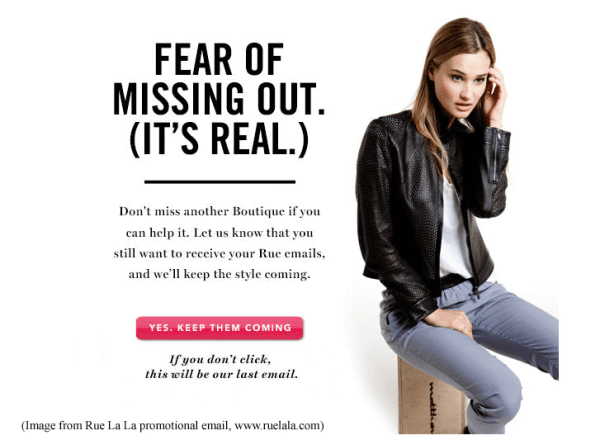 6. Discount Coupon Popups:
Social proof isn't the only explanation for why bestsellers help you sell more. They also work well because this type of social proof contains the element of scarcity or FOMO. Given that the stocks aren't unlimited, it also carries the risk of selling out if a product is selling well. As a result, the word "bestseller" helps users make a quicker decision by implying or creating a sense of urgency. You can achieve this by using WebsitesToolz many different discount code popups in modal as well as hello bar and portrait size layouts. You can even use the informational bar popup to make flash sale announcements.
To take full advantage of this principle, you can trigger prospects' fear-of-missing-out (FOMO) and create a sense of urgency. With an exit-intent popup, you can warn an abandoning visitor that the product they're viewing is high-in-demand and, therefore, may sell out anytime soon. In this example, we trigger visitors' FOMO and highlight the popularity of the product, We added an incentive to engage them further. Make sure to set an exit-intent trigger on this campaign to ensure that you capture abandoning visitors at the right time and persuade them with social proof and scarcity.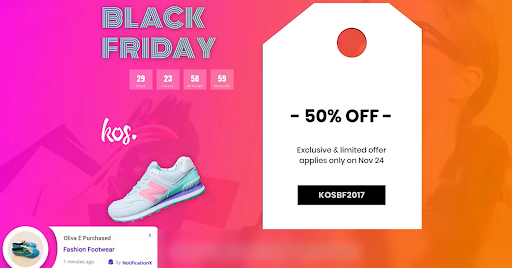 7. Create Upsell or Cross sell Popups:
With WebsitesToolz social proof popups you can create awesome upsell and cross sell popups that can instantly double the value of your buyers shopping cart value. With WebsitesToolz engagement links widget you can create an awesome popup just like the one below. You could use this popup to showcase Bestsellers, New Arrivals, Back in Stock, Out of Stock alternatives, Clearance Sale. You can also use this popup to display multiple options or designs for one single product on any product page and with a click send the user to the product page of his choice. You can even use this popup to show customer reviews for multiple products. You can create FOMO by adding description like " Only 2 Qty in Stock" or "Sold 50 Qty in the last 7 days" etc. Click Here to view step by step guides to create awesome popups using WebsitesToolz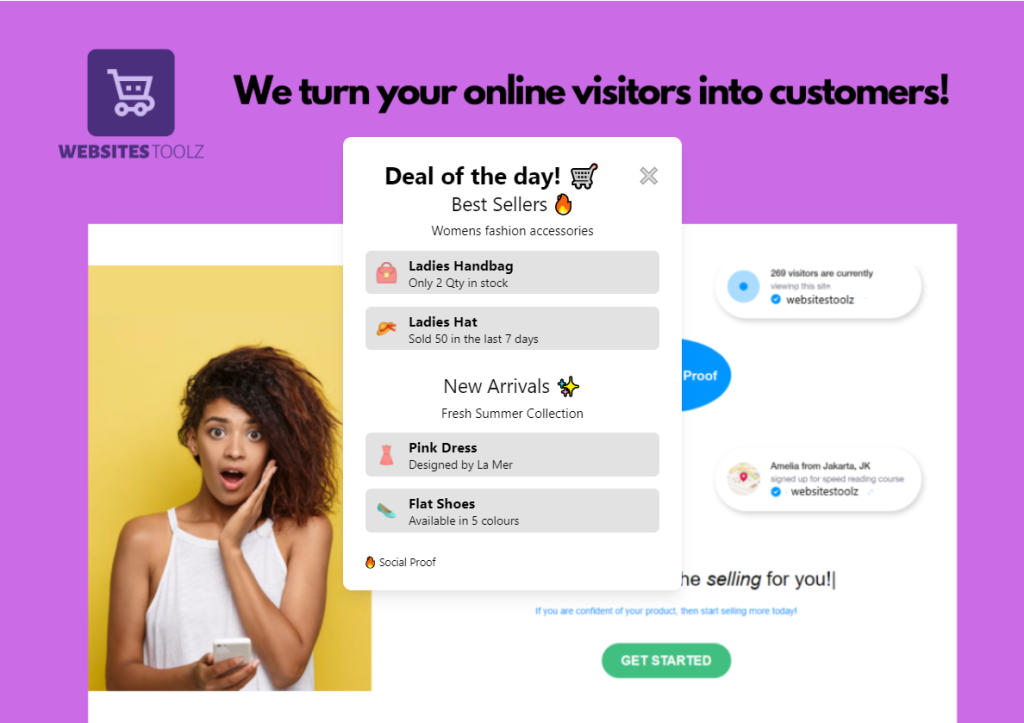 Here are some steps to effectively use social proof popups to boost online conversion rates, increase shopping cart values, and boost ecommerce sales:
Choose the right design: The design of your social proof popups should be visually appealing and align with your brand. Use eye-catching colors, clear and concise messages, and engaging images or icons.
Set the frequency of display: Be careful not to overwhelm your website visitors with too many popups. Set the frequency of display to ensure that popups appear at the right moments without being intrusive or annoying.
Define triggers for displaying popups: Determine when to display social proof popups based on specific actions or behaviors of your website visitors. For example, you can trigger a popup when a visitor spends a certain amount of time on a page, adds a product to their cart, or attempts to exit the website.
Use relevant types of social proof: Choose the type of social proof that is most relevant to your target audience and the desired action you want them to take. This could include customer reviews, testimonials, ratings, endorsements from influencers or industry experts, or real-time activity notifications (e.g., number of people who have recently made a purchase).
Create a sense of urgency: Social proof popups can be effective in creating a fear of missing out (FOMO) among visitors. Highlight limited-time offers, low stock availability, or time-limited discounts to add urgency and encourage immediate action.
A/B test your popups: Experiment with different variations of your social proof popups to see which ones generate the best results. Test different designs, messages, triggers, and placement on your website to optimize conversions and shopping cart values.
Monitor and analyze performance: Keep track of the performance of your social proof popups using analytics tools. Monitor conversion rates, click-through rates, and other relevant metrics to identify areas for improvement and make data-driven decisions.
Continuously optimize and iterate: Based on the insights gathered from your analytics, continuously optimize and iterate your social proof popups. Refine your design, messaging, triggers, and frequency to maximize their impact on your online conversions and sales.
By implementing these strategies, social proof popups can become a powerful tool in your online marketing strategy, driving increased conversions, higher shopping cart values, and overall ecommerce success.
FAQ's
What is social proof?
What is an example of social proof?
What is social proof and how do you use it to boost your brand online?
What is a social proof software?
What is the significance of social proof in digital marketing and how can businesses leverage it?
How can you use social proof to enhance your digital marketing efforts?
What is social proof and why is it important for eCommerce?