Social proof is nothing new. For many years, it's been used by both online and offline marketers to persuade prospects and increase sales. Simply put, the principle of social proof refers to the influence of other people's actions on our behavior. Meaning, when a large number of people are doing something, we assume that it must be the correct action. Leveraging this principle cleverly, many online stores use social proof on their websites and in their emails.
While social proof is an effective tool to convert online visitors into subscribers and beyond, only a handful of e-commerce marketers use it in their website popups. Naturally, those marketers know how to convince visitors to sign up for an email list or complete their orders without having to spend a fortune. And today, I'll show you how you can join those smart marketers by adding social proof to your on-site messages. So here are 12 highly effective social proof popup examples you can use to convert visitors into subscribers and customers.
1. Include Customer Reviews and Testimonials.
Whether it's product reviews, quotes, or videos, customer testimonials are one of the most common and most powerful types of social proof. And it's for a few good reasons:
Customer reviews add credibility to your online store;
They let satisfied customers promote your brand on your behalf and
They mimic personal recommendations from the people we know.
If you're already displaying testimonials on your homepage or product pages, you're off to a great start. When used in popups, customer testimonials help create a gentle nudge, inviting users to take action without feeling overwhelmed or pressured into buying. Product based video testimonials are one way to incorporate testimonials into your website product pages. Displaying positive product reviews are a great way to build credibility and trust. Take a look at this popup example you could use on a product page. You could create a similiar popup using WebsitesToolz Call to Action popup The most powerfull example of customer testimonials are video popups. Click here to read a step by step guide on "How to create awesome video popups with Websitestoolz"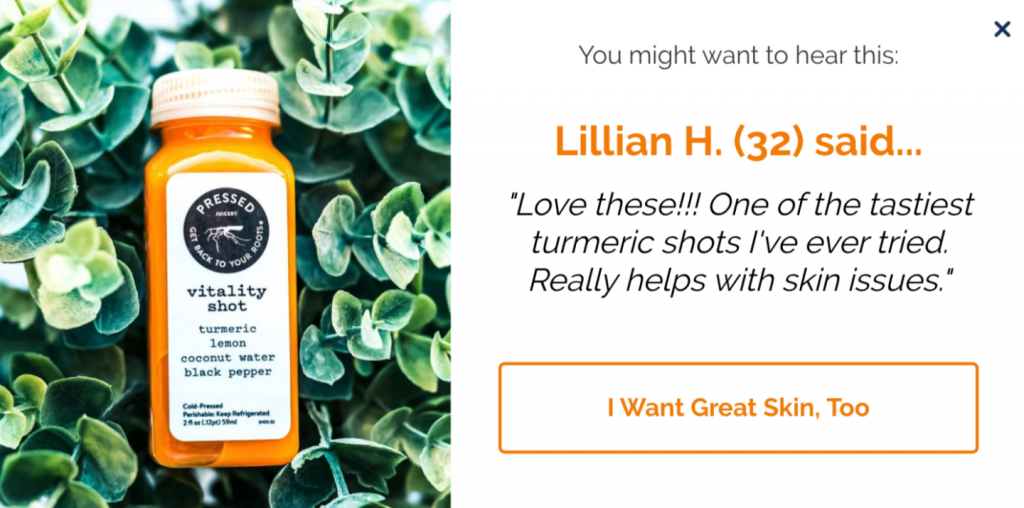 By showing selected product reviews in your popups like the above, you can remove possible obstacles to buying, and create social proof for that given product. What's more, by providing reviewer details, such as age or location, you can add credibility to your reviews and help your visitors identify themselves with the reviewer. Make sure to set a timed trigger to give users some space to read product descriptions, browse product photos, and so on.
The main advantage of using customer testimonials in your popups is the ability to show your messages to the right people, on the right pages, at the right time. However this works well when you have a many products that are under one category type like you see in the example above for Casper mattresses. This way you may use them as generic across most product pages. However if you have a more dynamic product protfolio you could create a stream of manual customer testimonial or review popups using WebsitesToolz random review popups. There are multiple effective ways to use testimonials in your popups. No matter which one you choose, they instantly add the element of social proof to your popups.
2. Promote your Bestsellers
Bestsellers sell well for a reason. Or, at least, we think they do. The "bestseller" stamp acts as proof of how good a product is. After all, if lots of people are buying an item, they must know something we don't. With customer acquisition costs continuing to rise, you can't afford to lose a prospect that just landed on your site. Although bestsellers can be highly persuasive on any visitor segment, they're especially ideal for guiding first-time visitors by giving them a starting point.
While many online stores guide their visitors to new arrivals or selected items, bestsellers work better than ordinary product lists. Why? Because they carry a stamp of approval from fellow consumers. Here's a popup example from Curology on promoting popular product to first-time visitors.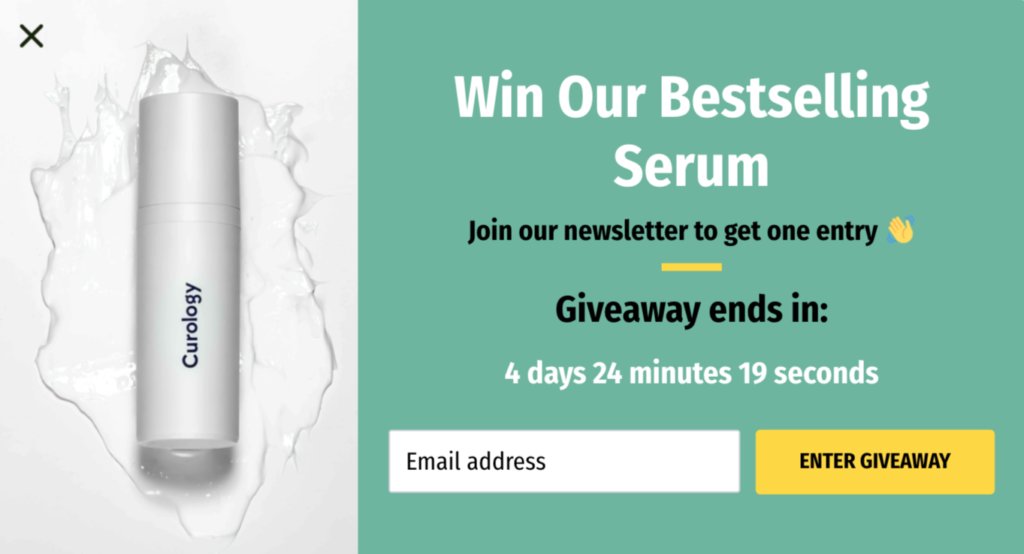 Also see in the example below of a bestseller popup from Jo Malone Perfumery. They very smartly showcased their bestselling perfume as a giveaway on their popup to first time visitors driving interest in the product and getting a subscriber lead captured both at the same time.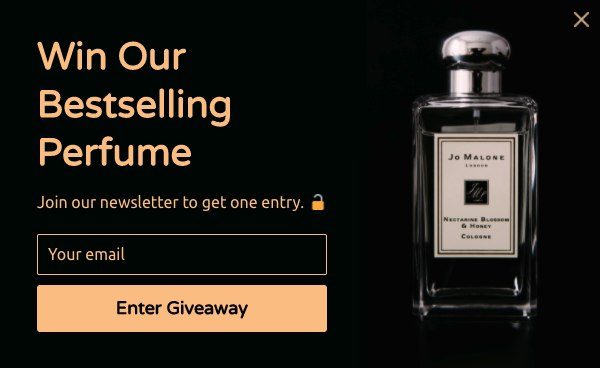 3. Add FOMO to Social Proof
Social proof isn't the only explanation for why bestsellers help you sell more. They also work well because this type of social proof contains the element of scarcity or FOMO. Given that the stocks aren't unlimited, it also carries the risk of selling out if a product is selling well. As a result, the word "bestseller" helps users make a quicker decision by implying scarcity or creating a sense of urgency.
To take full advantage of this principle, you can trigger prospects' fear-of-missing-out (FOMO) and create a sense of urgency. With an exit-intent popup like below, you can warn an abandoning visitor that the product they're viewing is high-in-demand and, therefore, may sell out anytime soon.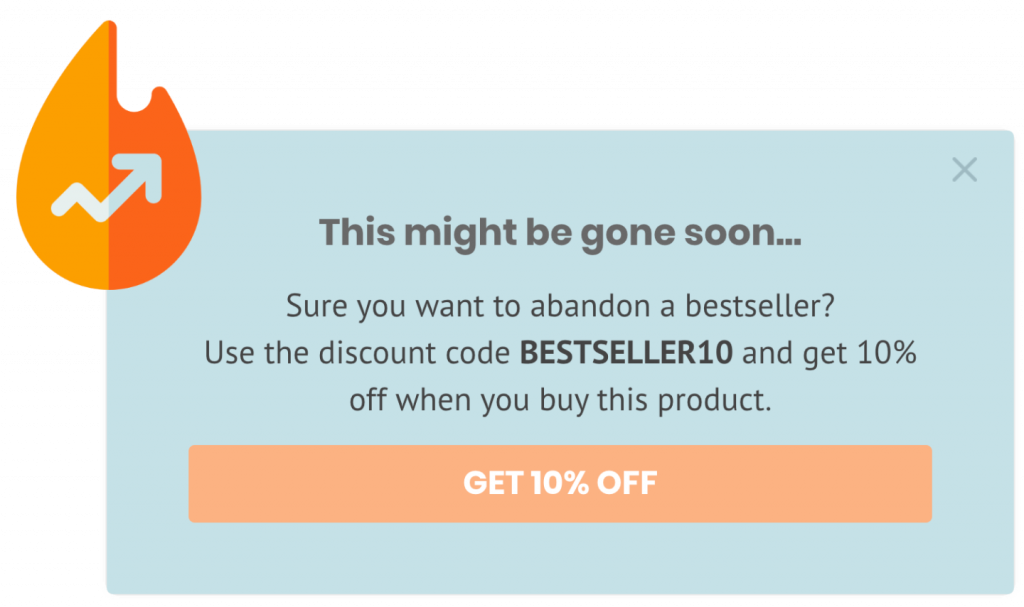 In this example, we trigger visitors' FOMO and highlight the popularity of the product, We added an incentive to engage them further. Make sure to set an exit-intent trigger on this campaign to ensure that you capture abandoning visitors at the right time and persuade them with social proof and scarcity.
4. Leverage Sold Out Products
For consumers, landing on a sold-out product page only means disappointment. For marketers, however, those pages are like a goldmine waiting to be tapped. Sold-out products carry an inherent stamp of social proof because if a product went out-of-stock, lots of others must have liked and bought it. When a visitor ends up on a sold-out product page, you need to manage their disappointment or shopping cart abandonment by either promising them a back-in-stock notification or guiding them in a new direction. Check out how UNI QLO does that with this back in stock popup.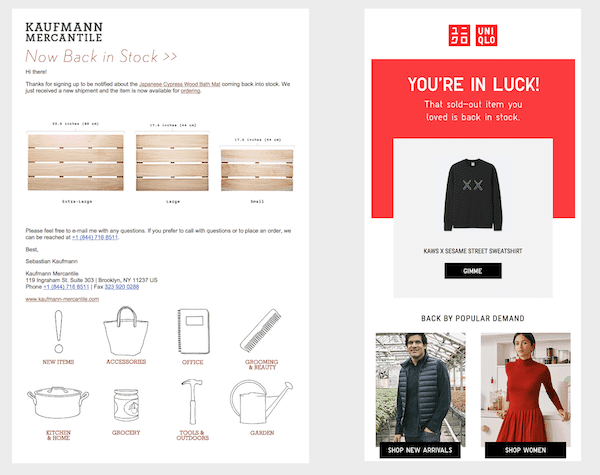 With this popup, the company uses back-in-stock notifications as we know them and grabs this opportunity to divert buyers to their back in stock product page with a call to action button. you could use the same concept to design a WebsitesToolz modal lead collector to capture leads instead. Using a consent checkbox, you could also asks if you want to join their newsletter by framing the call-to-action around a benefit. Now you can retarget these prospects with relevant product recommendations and personalized incentives.
JyskVin, on the other hand, takes a different approach to sold-out product pages. When you visit a product that had sold out, you see this popup.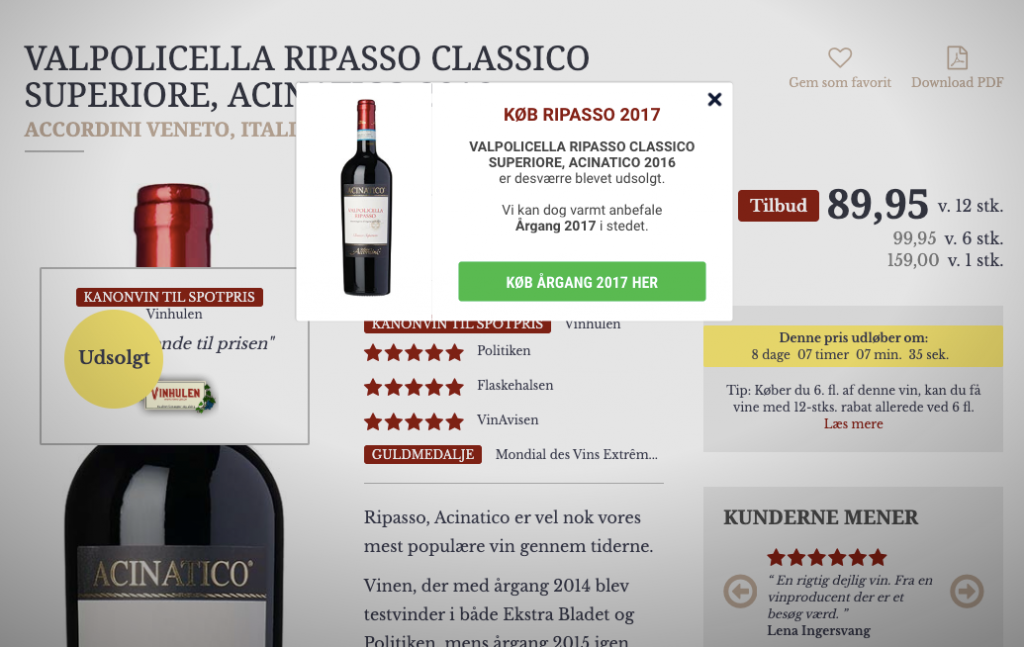 With it, the company, first, informs you that the product you're viewing went out-of-stock, and then recommends a similar item, instead. This way, JyskVin removes friction and creates a personalized shopping experience by imitating a store assistant. It's a brilliant tactic to ease visitors' frustration and convert them with a timely and relevant product recommendation popup reducing shopping cart abandonment. These can also be referred to as cross sell popups, wherein you quickly show an alternative product popup for a sold out or out of stock product. Set the trigger on Exit so this way you could capture the shoppers attention before he leaves.
5. Play The Numbers Game.
It's no secret that numbers strengthen the social proof by adding specificity to your claims. When nine out of ten dentists rather than a few recommend a toothpaste brand, we trust that brand more. Whether you want to convince visitors to sign up for your email list or complete their purchase, you can enhance your social proof popups with the power of numbers. Check out this example by Hideaways a travel agency. you could use the same concept to design a WebsitesToolz modal lead collector to capture leads.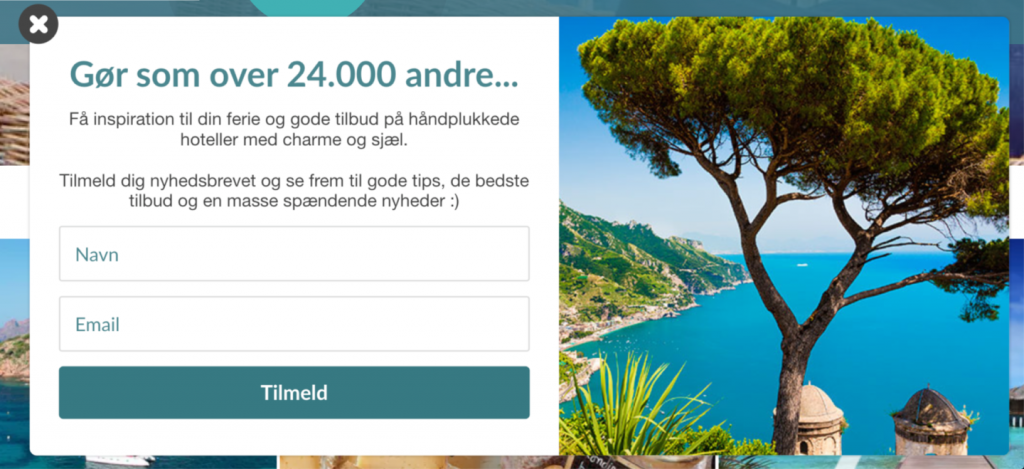 By showing the number of its newsletter subscribers, the company creates social proof and makes you think 24,000 people can't be wrong. What's more, Hideaways evokes a sense of belonging by inviting you to join among 24,000 others and "do the same." Remember to add specificity to your social proof popups whenever possible. Using exact numbers, such as 26,871, makes your claims more credible than round numbers, like 20,000. Numbers also work well in converting prospects into customers. Showing the number of your customers or products sold so far in your popups can help ease prospects' minds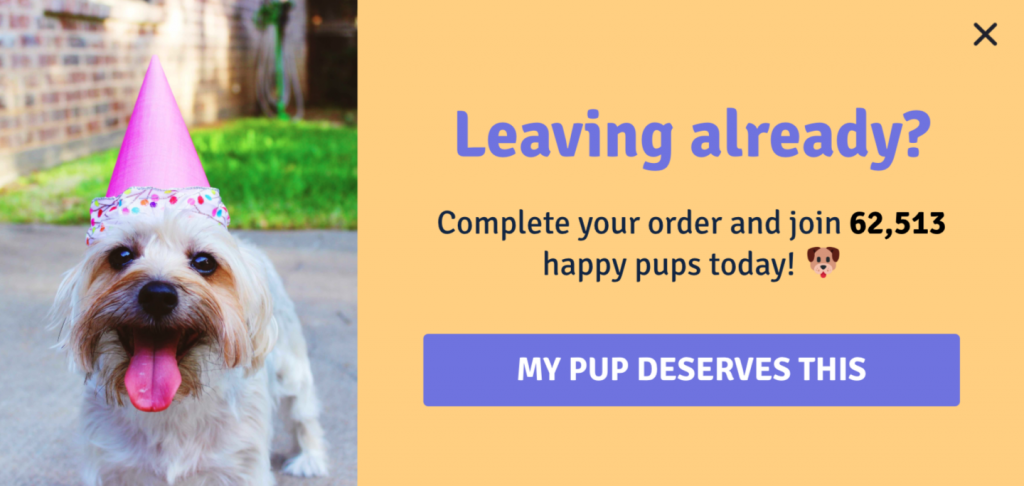 In case your visitors have any doubts about completing their order, you can regain them with social proof the moment they're about to abandon your site. Dont forget to set the triggers to exit intent, that way your shopper will see the popup just before they leave.
6. Display Reccomendation Popups
Granted, the words of an expert have more influence on us than an ordinary consumer because we believe that experts have more knowledge in the area than us. That's why we trust their authority and accept their recommendations as the correct behavior. One way to demonstrate this powerful type of social proof is to build or show your expertise within your field. Check out how fitness equipment e-tailer Apuls adds social proof to its popups by positioning the brand as experts: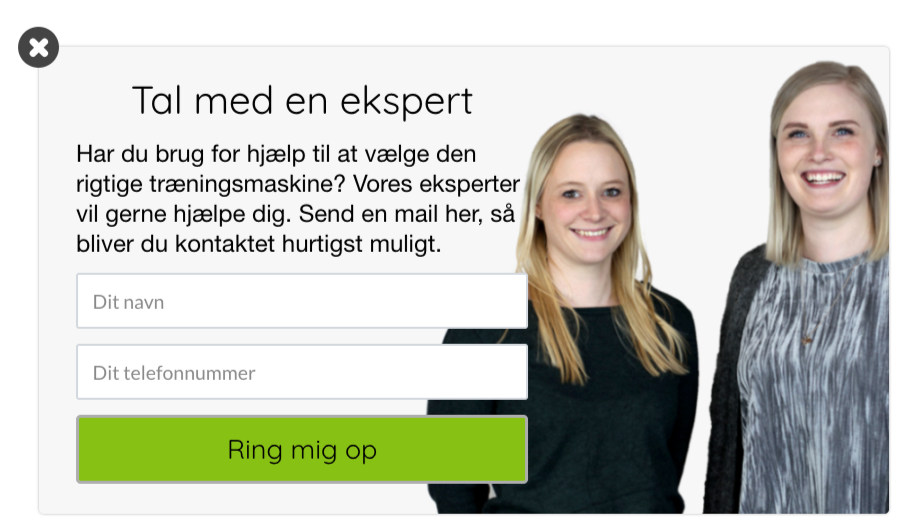 The company knows that buying expensive fitness equipment takes time and research, and sometimes even requires a consultation. That's why they show a popup inviting you to "talk to an expert" on specific category pages. With it, Apuls doesn't only guide its visitors to better buying decisions with excellent customer service; they also position themselves as experts in the field. Another way you can infuse social proof into your popups is to borrow authority from an expert. To use this tactic, you don't necessarily need to collaborate with celebrities or big influencers in your field.
7. Display Upsell Cross Sell Popups
With WebsitesToolz social proof popups you can create awesome upsell and cross sell popups that can instantly double the value of your buyers shopping cart value. With WebsitesToolz engagement links widget you can create an awesome popup just like the one below. You could use this popup to showcase Bestsellers, New Arrivals, Back in Stock, Out of Stock alternatives, Clearance Sale. You can also use this popup to display multiple options or designs for one single product on any product page and with a click send the user to the product page of his choice. You can even use this popup to show customer reviews for multiple products. You can create FOMO by adding description like " Only 2 Qty in Stock" or "Sold 50 Qty in the last 7 days" etc. Click Here to view step by step guides to create awesome popups using WebsitesToolz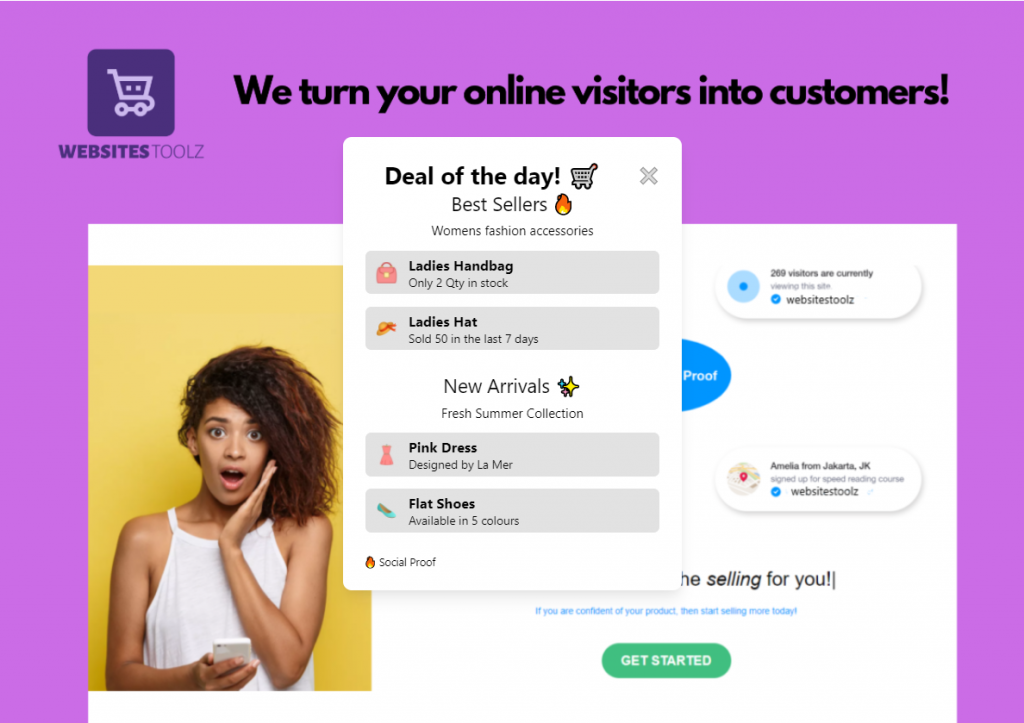 8. Display Media Reccomendation Popups
Media has always been influential in guiding consumer behavior, both online and off. Getting media coverage for your brand extends your reach. But it also acts as a stamp of approval. For this strategy to work, you don't necessarily need to get featured in large, international publications. Nor do you need to be a blogger or a SaaS company. It works just as well for e-commerce businesses and in local contexts, too. Here's a brilliant popup example by Rosemunde: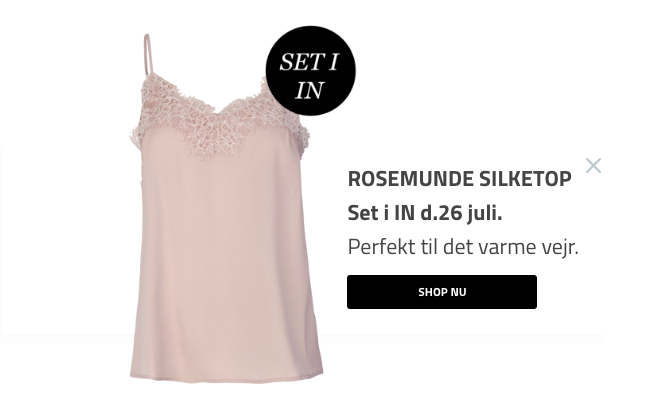 In it, Rosemunde promotes one of its products by applying the traditional "as-seen-on" marketing approach to its popups. The popup copy reads "Rosemunde Silk Top, seen in IN on July 26th," referring to a Danish fashion magazine called "IN." By using the media coverage of one of its products, Rosemunde adds social proof to this promotional popup and makes the product more attractive. If your brand, website, or products got praised by a local newspaper, blogger, or a micro-influencer, use it in your popups to create social proof.
WebsitesToolz is one of the most effective Social proof marketing tools. We turn your online visitors into customers with 24 different types of popup notifications with call to action ideal for every online business. You could create and display a stream of conversion notifications, product counter notifications, Video Popups, Phone number collectors, Linktree Popups, Countdown clock email id collectors, Modal lead collectors, Discount popus, Hello bar notifications, Text feedback popups and many more. You could easily integrate with all your favourite applications using webhooks or a service like Zapier.
FAQ's
What is an example of social proof?
What is social proof?
What does social proof mean in marketing?
What is social proof and how do you use it to boost your brand online?
What is good social proof?
Why does social proof in digital marketing matter?
What are the types of social proof that drive customers to buy?
How important is social proof in sales?