Are you looking for the best WordPress eCommerce plugins to grow your online business? WordPress is one of the most popular website builders for ecommerce entrepreneurs. One of its many benefits includes all the powerful plugins at your disposal. These tools can help you quickly and efficiently build your online business. What is WordPress? At its core, WordPress is the simplest, most popular way to create your own website or blog. In fact, WordPress powers over 40.0% of all the websites on the Internet. Yes! more than one in four websites that you visit are likely powered by WordPress.
But Why choose WordPress?
WordPress Is Extensible
Even if you aren't a developer, you can easily modify your website thanks to WordPress' huge ecosystem of themes and plugins:
Themes – these primarily change how your website looks.
Plugins – these primarily change how your website functions. Plugins can be something small, like a popups or contact form, or huge, like creating an eCommerce store.
Currently, there are over 50,000 free WordPress plugins and 5,000 free WordPress themes, as well as tons of premium options. That to say you have plenty of choices to choose between free and paid plugins. Click here to read "Top 6 Proven FOMO Marketing tools to skyrocket your online conversions"
WordPress Is Easy To Install
Think you need to be a tech genius to create your own website? Think again! If you can click a few buttons, you can install WordPress on your site. Nowadays, most web hosts either:
Offer to preinstall WordPress for you so that your site is ready to go right away.
Give you dedicated tools that make the install process very beginner-friendly.
That's why, in this article, we're excited to share the WordPress ecommerce plugins that will help you grow and expand your online store. Ready to dive in? Let's get started.
Essential WordPress ecommerce plugins for an Online Store.
1.WooCommerce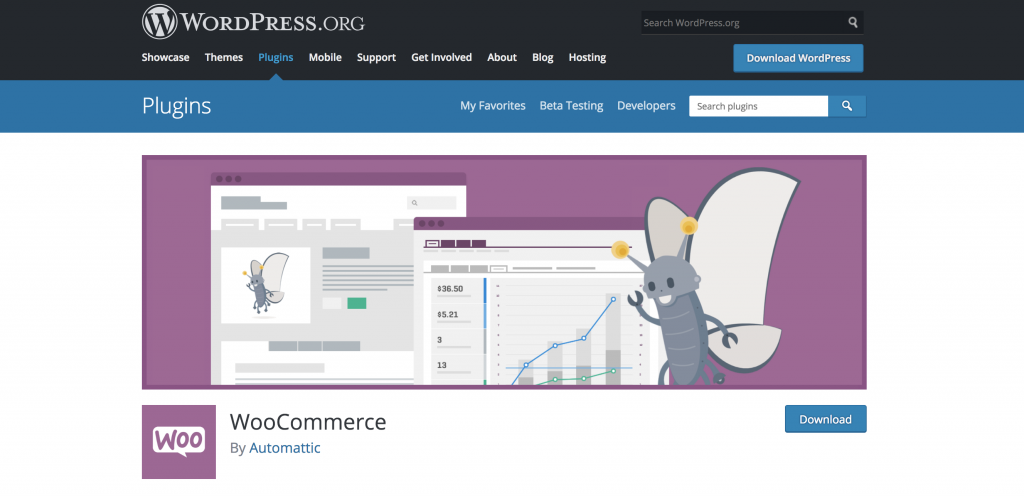 WooCommerce is a powerful WordPress eCommerce plugin that just so happens to be FREE. It's the driving force behind 30% of all online stores and offers incredible flexibility and customization. With just a few clicks, you can create a beautiful WooCommerce store.
Key Features:
Hundreds of extensions and themes, making it easy for you to add new features to your WooCommerce store
Supports physical products as well as digital downloads
Affiliate Marketers can add affiliate or external products to your site, providing users a better experience
Easily manage your inventory or even assign it to a store manager
Built-in support for popular payment gateways (plus, you can add many other payment options using extensions)
Automatically calculate taxes, shipping costs, and other expenses
Excellent support including documentation, a knowledge base, help desk, and community forums
The biggest drawback of WooCommerce is its scalability. As your store gets larger, you'll need to move to a managed hosting provider to scale your WooCommerce store. If you're interested in WooCommerce, you may want to check out the following article: Top 5 Social Proof tools for wordpress and woocommerce
2. Shopify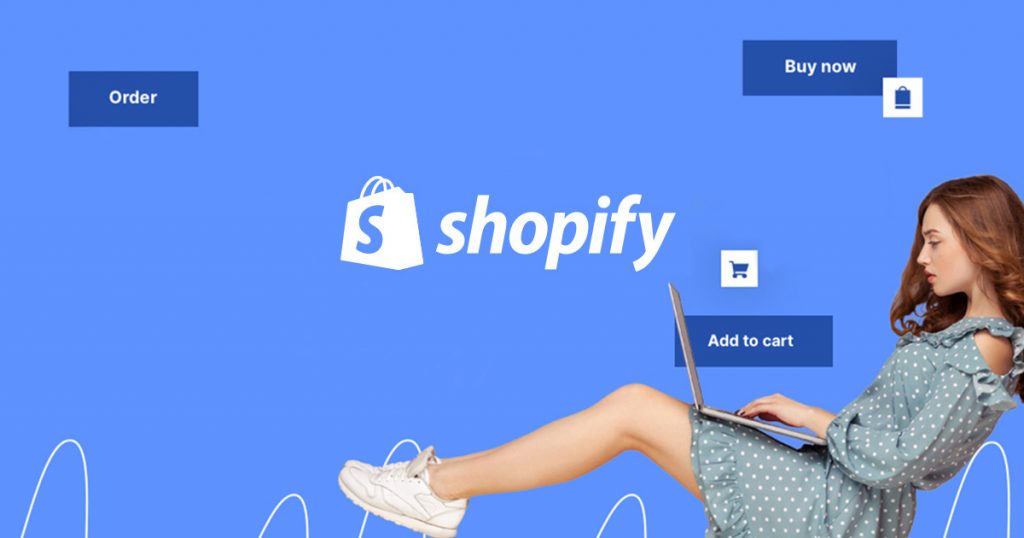 Shopify, like BigCommerce, is a cloud-hosted eCommerce solution that lets you quickly get started with selling online. To get started with Shopify, you just sign up and dive in. No need to fuss with setting up different payment gateways, handling shipping or taxes, or making sure the site is secure. Shopify handles it all.
Shopify makes our list because it's an all-in-one solution that's hassle-free. Plus, it has a plugin that lets you create a WordPress site to manage your content and still drive more sales.
Key Features:
Supports both digital and physical products
Comes with an inventory editor, bulk importer, and an order tracker, making inventory tracking super easy
Multiple payment options mean you can accept credit cards online and in-person
Streamlined shipping system and direct integration with popular providers like USPS makes order fulfillment a snap
Shopify integrates with everything
Using Shopify integration with your WordPress eCommerce website? Go check out this post: How to setup shopify conversions with WebsitesToolz
3. BigCommerce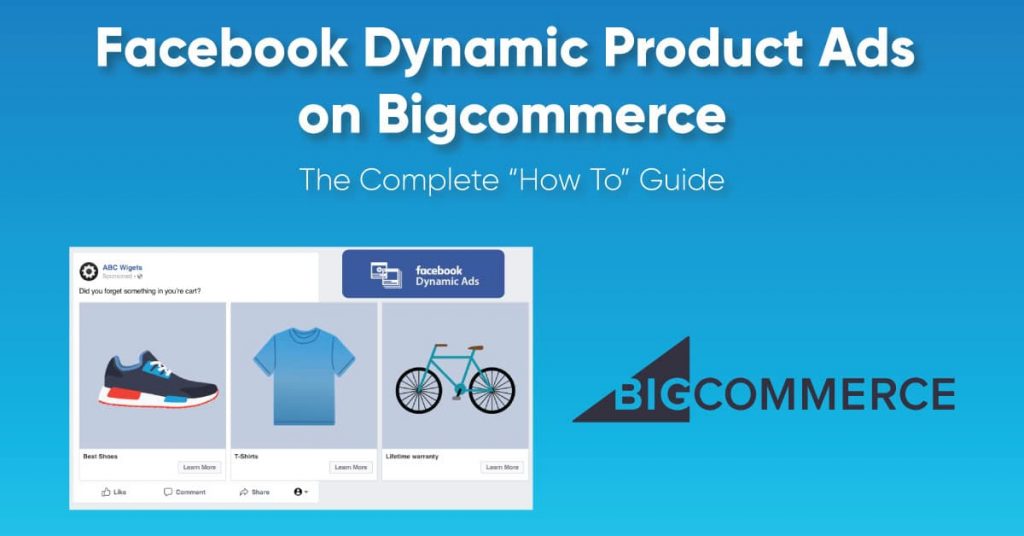 BigCommerce is an eCommerce solution that's specifically designed to help businesses with online sales. It's the same platform that runs powerhouses like Skullcandy, Ben & Jerry's, CamelBak, and other super well-known online stores.
BigCommerce is cloud-hosted and offers seamless integration with your WordPress website. This offers scalability, enterprise-grade security, and high performance. BigCommerce is a stand-alone platform, but also has a plugin to integrate eCommerce features with WordPress.
Key Features:
Keeping your eCommerce engine separate from other content makes it easier to run your WordPress website
You can use it to sell on other channels like Facebook, Instagram, and Amazon
Choose from dozens of top payment gateways and only pay the payment service provider (no transaction charges)
Offers a wide range of shipping and fulfillment options
Comes with 80+ predesigned, responsive templates to help you design the best storefront
Easily customize your store with BigCommerce apps
If you're looking to boost sales on your Woocommerce product pages with instant checkouts, then we suggest you read this post: How to add Stripe checkout popup on WooCommerce?
4. Ecwid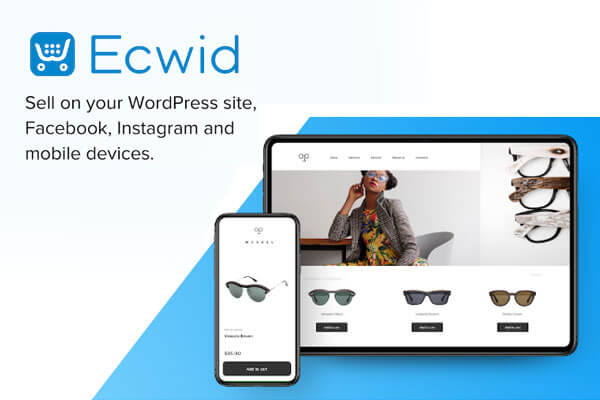 The Ecwid Ecommerce Shopping cart boasts excellent ratings and a setup that looks like WooCommerce but is actually quite different. One of the main differences is that Ecwid can be used on any website you'd like.
Not only that, but the core plugin is completely free and you're getting more built-in features as opposed to a library of add-ons. For that reason, we figure many users would prefer Ecwid if looking for more built-in tools.
Key Features:
Ecwid can be used on any website you'd like.
Ecwid is less expensive than WooCommerce, and other WordPress ecommerce plugins.
Ecwid has more built-in features as opposed to a library of add-ons for some other plugins.
Start Free with a mobile responsive shopping cart, support for up to 10 products, and the ability to sell on multiple sites.
Ecwid has an incredibly clean interface and a smooth setup process.
All plugin upgrades happen automatically with Ecwid, whereas most other WordPress plugins require a manual upgrade.
If your facing issues with increased cart abandonment and want to reduce the same. We suggest you check this post: Top 3 proven ways to reduce shopping cart abandonment
5. Easy Digital Downloads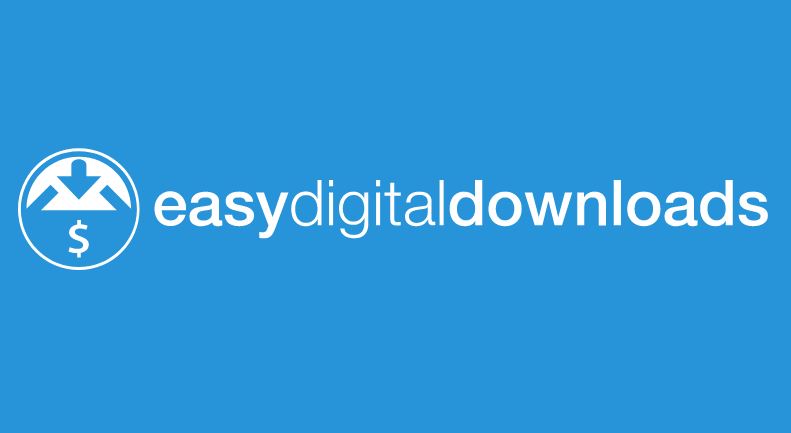 Easy Digital Downloads is a lightweight WordPress eCommerce plugin that comes with all the features you need to easily sell your digital products. Other eCommerce plugins help you sell digital products from your WordPress store, but they come bundled with many features for selling physical products that you'll likely never need.
Easy Digital Downloads gives you everything you need to sell your digital product and nothing more.
Key Features:
Easy to use, even for first-timers
Hundreds of extensions available for everything from payment gateways to marketing platforms
Works with almost any WordPress theme, but also has themes built specifically for the plugin
Has excellent support with forums, videos, tutorials, and an IRC chatroom
If you are looking to sell digital products and online courses, take a quick look at this post: Top 6 best platforms to sell your online courses.
6.Seedprod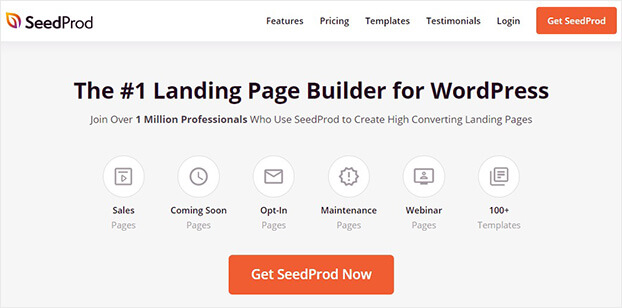 SeedProd is the best landing page builder for WordPress. With SeedProd, you can easily create beautiful landing pages using a visual drag and drop builder. No code required. Using its landing page templates, you can add email optins, countdown timers, and social share buttons to your eCommerce page.
There are even custom WooCommerce blocks like add to cart, checkout, shopping cart, products grid, and more. This makes it easy to create product-focused landing pages and customize the WooCommerce checkout page.
SeedProd also handles coming soon pages, launch pages, under construction pages, and maintenance mode pages for your WordPress site. And the best part is that SeedProd is a powerful tool for capturing leads before your WordPress site even goes live. When you have a course or product launch coming up, you can create a Coming Soon Page that captures your audience's email address. This lets you stay in contact with your target buyer before, during, and after your product launch. In the end, you're able to make more sales because you've got your leads ready to buy.
Key Features:
Built-in email autoresponder
WooCommerce integration
Search engine optimized
Social follow and share
Having a pre-launch marketing page really helps build excitement about your brand and can jumpstart your site's SEO. But when you add that optin form integration to start building your email list can really give your online business a big advantage. Imagine already having a mailing list of hundreds–or even thousands–of customers when you're ready to announce your grand opening!
Need help with building a high quality landing page. We suggest you give this post a look: Top 7 ClickFunnels alternatives to boost sales
WebsitesToolz is one of the most effective Social proof marketing tools. We turn your online visitors into customers with 24 different types of popup notifications with call to action ideal for every online business. You could create and display a stream of conversion notifications, product counter notifications, Video Popups, Phone number collectors, Linktree Popups, Countdown clock email id collectors, Modal lead collectors, Discount popus, Hello bar notifications, Text feedback popups and many more. You could easily integrate with all your favourite applications using webhooks or a service like Zapier.